Mujiatun, S., Badawi, A. (2023) Root Cause Analysis Factors Against Islamic Banking Financial Inclusion
Keywords:
Financial Inclusion, Islamic Banking, Root Cause Analysis
Abstract
Purpose: The aim of this study is to analyze the achievement of Islamic financial inclusion targets through increasing the digitization of Islamic banking in Indonesia using the Islamic financial inclusion index.
Theoretical framework: The theoretical framework shows that financial inclusion is the biggest challenge in improving Islamic finance, this is in line with the targets from the road map from regulators and previous research, one of which is in 2020. So that if financial inclusion does not increase, it can hamper the development of Islamic finance in a comprehensive and sustainable.
Design/methodology/approach:  The Method using the root cause analysis method of the inhibiting factors for Islamic banking financial inclusion and a literature study that examines the financial inclusion index and the results of Islamic financial inclusion research.
Findings: From the research that has been done, it containing that the level in Islamic financial inclusion from 2019 to 2021 is 76.91% even though the 2024 financial inclusion target by the regulator is 90%. For this reason, a strategy for achieving Islamic financial inclusion through digitalization is needed, including opportunities from the post-covid-19 era that support sustainable digitalization.
Research, Practical & Social implications: The research results imply that the regulators and Islamic banking must induce the financial inclusion index achievement towards the 2024 target.
Originality/value: This article is an academic contribution that allow an understanding about research Root cause analysis factors against islamic banking financial inclusion.
Downloads
Download data is not yet available.
References
Abadi, M. D., Lailiyah, E. H., & Kartikasari, E. D. (2020). Analisis SWOT Fintech Syariah Dalam Menciptakan Keuangan Inklusif di Indonesia (Studi Kasus 3 Bank Syariah di Lamongan). Jesya (Jurnal Ekonomi & Ekonomi Syariah), 4(1), 178–188. https://doi.org/10.36778/jesya.v4i1.298
Ahyar, M. K. (2019). Analisis Pengaruh Inklusi Perbankan Syariah terhadap Pembiayaan UMKM Sektor Halal di Indonesia. Al-Tijary, 5(1), 19–36. https://doi.org/10.21093/at.v5i1.1716
Ali, M. M., Devi, A., & Bustomi, H. (2020). Determinants of Islamic Financial Exclusion in Indonesia. Journal of Islamic Monetary Economics and Finance, 6(2). https://doi.org/10.21098/jimf.v6i2.1093
Dahrani, D., Saragih, F., & Ritonga, P. (2022). Model Pengelolaan Keuangan Berbasis Literasi Keuangan dan Inklusi Keuangan : Studi pada UMKM di Kota Binjai. Owner, 6(2), 1509–1518. https://doi.org/10.33395/owner.v6i2.778
Gunawan, A., Pulungan, D. R., & Koto, M. (2019). Tingkat Literasi Keuangan Dosen Fakultas Ekonomi dan Bisnis Universitas Muhammadiyah Sumatera Utara. Seminar Nasional & Call For Paper Seminar Bisnis Magister Manajemen (SAMBIS-2019), 1(2685–1474), 1–9.
Holle, M. H. (2019). Inklusi Keuangan: Solusi Pengentasan Kemiskinan Guna Daya Saing Perekonomian Bangsa. Journal of Islamic Economic and Bussiness, 1(2).
Laili, N. Y., & Kusumaningtias, R. (2020). Efektivitas Inklusi Keuangan Syariah dalam Meningkatkan Pemberdayaan UMKM (Studi Pada BMT Dasa Tambakboyo). Jurnal Ilmiah Ekonomi Islam, 6(3), 436. https://doi.org/10.29040/jiei.v6i3.1204
Laut, L. T., & Hutajulu, D. M. (2019). Kontribusi Financial Technology Dalam Meningkatkan Inklusi Keuangan di Indonesia. Prosding Seminar Nasional Dan Call For Papers, 326–336.
Lionardo, J., & Rahmayanti, D. (2019). Tingkat Inklusi Keuangan Sektor Perbankan Pada Masyarakat Di Kecamatan Teluk Segara Kota Bengkulu. Managament Insight: Jurnal Ilmiah Manajemen, 13(1), 33–46. https://doi.org/10.33369/insight.13.1.33-46
Newman, N., Fletcher, R., Kalogeropoulos, A., A. L. Levy, D., & Kleis Nielsen, R. (2018). Reuters Institut Digital News Report 2018. 270.
Otoritas Jasa Keuangan. (2021). Strategi Ojk Dalam Meningkatkan Indeks Literasi Dan Inklusi Keuangan Syariah. Otoritas Jasa Keuangan, September.
Putri, S. A. M. (2017). Optimalisasi Laku Pandai Berbasis Masjid Guna Literasi Dan Inklusi Keuangan Syariah Berkelanjutan. Ekonomi Dan Bisnis Islam, 3(2), 107–121.
Susanto, H., Sari, E. N., & Sari, M. (2021). Factors Affecting the Quality of Financial Reports in the Government of Langkat Regency. Budapest International Research and …, 12264–12278. https://bircu-journal.com/index.php/birci/article/view/3291
Umar, A. I. (2017). Index of Syariah Financial Inclusion in Indonesia. Buletin Ekonomi Moneter Dan Perbankan, 20(1), 99–126. https://doi.org/10.21098/bemp.v20i1.726
Ummah Badriatul B, D. (2014). Artikel diterima Juni 2012 Artikel disetujui untuk dipublikasikan Desember 2012. Jurnal Ekonomi Dan Kebijakan Pembangunan, 4(1), 111–135.
Utami, N., & Sitanggang, M. L. (2021). The Effect of Fintech Implementation on The Performance of SMEs. Journal of International Conference Proceedings, 4(3), 407-417.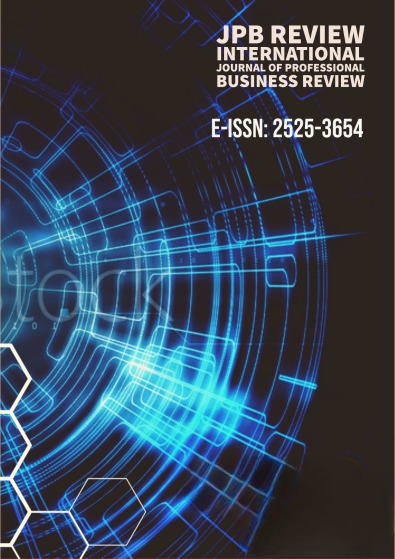 Downloads
How to Cite
Mujiatun, S., & Badawi, A. (2023). Mujiatun, S., Badawi, A. (2023) Root Cause Analysis Factors Against Islamic Banking Financial Inclusion. International Journal of Professional Business Review, 8(5), e01053. https://doi.org/10.26668/businessreview/2023.v8i5.1053
License
Copyright (c) 2023 Siti Mujiatun, Afif Badawi
This work is licensed under a Creative Commons Attribution-NoDerivatives 4.0 International License.
Authors who publish in this journal agree to the following terms: the author(s) authorize(s) the publication of the text in the journal;
The author(s) ensure(s) that the contribution is original and unpublished and that it is not in the process of evaluation by another journal;
The journal is not responsible for the views, ideas and concepts presented in articles, and these are the sole responsibility of the author(s);
The publishers reserve the right to make textual adjustments and adapt texts to meet with publication standards.
Authors retain copyright and grant the journal the right to first publication, with the work simultaneously licensed under the Creative Commons Atribuição NãoComercial 4.0 (http://creativecommons.org/licenses/by-nc/4.0/), which allows the work to be shared with recognized authorship and initial publication in this journal.
Authors are allowed to assume additional contracts separately, for non-exclusive distribution of the version of the work published in this journal (e.g. publish in institutional repository or as a book chapter), with recognition of authorship and initial publication in this journal.
Authors are allowed and are encouraged to publish and distribute their work online (e.g. in institutional repositories or on a personal web page) at any point before or during the editorial process, as this can generate positive effects, as well as increase the impact and citations of the published work (see the effect of Free Access) at http://opcit.eprints.org/oacitation-biblio.html