Digital Marketing in Promotion of Tourism Objects in Selayar Islands Regency
Keywords:
Computer Mediated Communication, Digital Marketing, Promotion, Social Media, Tourism Object
Abstract
Purpose: Digital marketing promotion is a modern step taken by the Selayar Regency Tourism Office to introduce tourism potential in its area.
Theoretical framework: The results of the study, using Computer Mediated Communication analysis, promotion mix
Design/methodology/approach: this type of research is qualitative descriptive using computer mediated communication theory. Informants in the study used purposive sampling technique. Data collection techniques used interviews, documentation.
Findings: found that the Selayar Islands Regency Tourism and Culture Office uses promotional media through web-sites with clickable features including homepage, news, advertorials, events and activities, profiles, best destinations, destinations, art. and culture, public facilities, search, video besides using social media including Instagram, Facebook, YouTube. Finally, by using digital media, it is possible to display promotional activities for tourism objects widely which can be seen by local and foreign people
Research, Practical & Social implications: We suggest a future research agenda and highlight the contribution made in the development of tourism destinations in the Selayar Islands Regency
Originality/value: The results show that the intensity of digital promotion in the development of tourism potential provides a tangible manifestation of the visit of foreign tourists and local tourists
Downloads
Download data is not yet available.
References
Arianto. 2021. Marketing Communication Concepts and Applications of the Digital Age. Surabaya: Airlangga University Press.
Armstrong, Gery & Kotler, Philip. 2001. Principles of Marketing. Volume 1. Eighth Edition. Jakarta: Erlangga.
Aziz, Abdul. 2020. Digital Marketing Content.2020. Malang: PT Literindo Berkah Karya
Boyle, D., & Proctor, T. (2009). The nature, role and value of marketing within the road safety team in a City Council: A social marketing approach. Management Research News, 32(8), 707-715. doi: 10.1108/01409170910977924
Bungin, Burhan. 2017. Tourism Communication (Tourism Communication) Marketing & Brand Destinations. Jakarta: Kencana.
Cangara, Hafied.2017. Communication Planning & Strategy. Jakarta: Rajawali Press.
Gozali, Ahmad. 2013. Theory and Practice of Marketing of Goods and Services. East Jakarta: Rizky Aditya's CV
Jaiz, Muhammad. 2014. Advertising Fundamentals.Yogyakarta: Fisip Untirta Press
Kotler Philip, Kartajaya Hermawan and Setiawan Iwan. 2019. Marketing 4.0 Moving from traditional to digital. Jakarta: PT Gramedia Pustaka Utama.
Morrisan.2010. Integrated Marketing Communication Advertising. Jakarta: Kencana Prenada Media Group.
Nugroho, Chess.2020. Cyber Society New Media Technology and Information Disruption. Jakarta: Kencana
Payangan, Otto R. 2018. Pemasaran Jasa Pariwisata. Bogor: IPB Press
Puspaningtyas, Meinarti, dkk (2022). English Education System in International Marketing Based on Digital Marketing.https://www.ejournal.aibpmjournals.com/index.php/APJME/index
Prayogo Restu Rangga. 2018. Development of Tourism in Marketing Perspective. Jakarta: Kencana
Soemanagara, Rd. 2008. Marketing Communication. Bandung: Alfabeta.
Sugiyono. 2014. Qualitative Quantitative Research Methods and R & D. Bandung: Alfabeta
Sukoco, Andrean.2018. New Marketing Communication: Theory and Its Application. EastJava : CV Pustaka Abadi.
Utama Gusti, Rai. 2017. Tourism Marketing:Yogyakarta: CV Andi Offset.
--------------------------------. 2021. Philosophy of Science and Logic of Management and Tourism. Sleman: Depublish.
Wati, Prasetya dkk. 2020. Digital Marketing.Malang: PT Literindo Berkah Karya
Waebusar , Esmail Aiman, dkk. (2022). Customer Satisfaction and Brand Loyalty: A Survey of Nestlé. https://www.ejournal.aibpmjournals.com/index.php/IJTHAP.
Zebuah, Manahati. 2016. Inspiration for Regional Tourism Development. Sleman: Depublish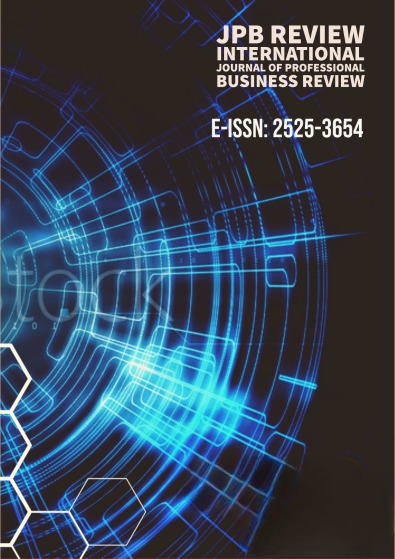 Downloads
How to Cite
Burhan, U. M. (2023). Digital Marketing in Promotion of Tourism Objects in Selayar Islands Regency. International Journal of Professional Business Review, 8(5), e01054. https://doi.org/10.26668/businessreview/2023.v8i5.1054
License
Copyright (c) 2023 Ulfa Mawaddah Burhan
This work is licensed under a Creative Commons Attribution-NoDerivatives 4.0 International License.
Authors who publish in this journal agree to the following terms: the author(s) authorize(s) the publication of the text in the journal;
The author(s) ensure(s) that the contribution is original and unpublished and that it is not in the process of evaluation by another journal;
The journal is not responsible for the views, ideas and concepts presented in articles, and these are the sole responsibility of the author(s);
The publishers reserve the right to make textual adjustments and adapt texts to meet with publication standards.
Authors retain copyright and grant the journal the right to first publication, with the work simultaneously licensed under the Creative Commons Atribuição NãoComercial 4.0 (http://creativecommons.org/licenses/by-nc/4.0/), which allows the work to be shared with recognized authorship and initial publication in this journal.
Authors are allowed to assume additional contracts separately, for non-exclusive distribution of the version of the work published in this journal (e.g. publish in institutional repository or as a book chapter), with recognition of authorship and initial publication in this journal.
Authors are allowed and are encouraged to publish and distribute their work online (e.g. in institutional repositories or on a personal web page) at any point before or during the editorial process, as this can generate positive effects, as well as increase the impact and citations of the published work (see the effect of Free Access) at http://opcit.eprints.org/oacitation-biblio.html