The Need for Kaizen Culture for Manufacturing Industries in Industry 4.0
Keywords:
Industry 4.0, Kaizen, Continuous Improvement, Team Autonomy, SMARTKM factory (4.0)
Abstract
Purpose: The study aims to find the need for creativity in industry 4.0, To test whether creativity can be embraced by Kaizen.
Theoretical framework: The problem statement is does Kaizen / Creativity to be extended to industry 4.0 and the same is researched with Literature reviews and with a set of Hypotheses.
Design/methodology/approach: Survey questions were framed to check the linkage of creativity and industry 4.0, two hypotheses was tested, 30 samples from Experts in Industry and Academia contributed to the thoughts, and Correlations and SEM were used to conclude the findings.
Findings: SPSS was used and principal component analysis with a "t" test was done to look at the correlation of independent variables to the above-mentioned hypothesis, the results revealed that there is a significant relationship with, effective communication, open innovation, Continuous Improvement, transformational leadership, collaboration, Goal clarity team autonomy, attitude, and knowledge enhancement.
Research, Practical & Social implications: The sample size is less and can need to be tested on a larger sample size. The study can also be done in employees in industry 3.0 and industry 4.0 to check the effects. The practical implications is well tested in Industry 2.0 and Industry 3.0 The same needs to be continued for industry 4.0 to induce creativity thereby knowledge enhancement and Team Autonomy. Considering human behaviour this closed loop of problems. Kaizens is needed to sustain the innovation and thereby creating a culture of involvement and ownership.
Originality/Value: There is active research in present times, researchers are showing keen interest on convincing the needs and benefits of Industry 4.0, but the behavioural aspect and its implications with industry 4.0 need to be explored. The next generation i.e. industry 4.0 will be more challenging, as there would be the challenge of a skilled workforce, and pressure for time/productivity will be high. People will be working in isolation (Sharing of thoughts and ideas will be limited Stalling of thinking approach). This may lead to psychological problems.The present study contributes to bridge this research gap.
Downloads
Download data is not yet available.
References
Abshiek, R. Harwinder (2014) Total Productive Maintenance. Research gate.
Bahia, T. H. A., Idan, A. R., & Athab, K. R. (2023). The Effect of Quality Function Deployment (QFD) in Enhancing Customer Satisfaction. International Journal of Professional Business Review, 8(1), e01156-e01156.
Davies, B., Diemand-Yauman, C., & van Dam, N. (2019). Competitive advantage with human dimension: From lifelong learning to lifelong employability. McKinsey Quarterly, 2, 1-5.Elsepth (2000), Techniques to enhance creative thinking, Research gate
Doolen, T. L., Hacker, M. E., & Van Aken, E. M. (2003). The impact of organizational context on work team effectiveness: A study of production team. IEEE Transactions on engineering management, 50(3), 285-296.
Fantana, N. L., Riedel, T., Schlick, J., Ferber, S., Hupp, J., Miles, S., ... & Svensson, S. (2022). IoT applications—value creation for industry. In Internet of Things (pp. 153-206). River Publishers
Jain, A., Bhatti, R., & Singh, H. (2014, March). Improving employee & manpower productivity by plant layout improvement. In 2014 Recent Advances in Engineering and Computational Sciences (RAECS) (pp. 1-6). IEEE.
Maçada, A., Freitas Junior, J. C. D. S., Brinkhues, R. A., & Vasconcellos, S. D. (2022). Life Interrupted, but Performance Improved-Rethinking the Influence of Technology-Mediated Interruptions at Work and Personal Life. Maçada, ACG, Freitas Junior, JC da S.., Brinkhues, RA., & de Vasconcellos, S.(2022). Life interrupted, but performance improved: Rethinking the influence of technology-mediated interruptions at work and personal life. International Journal of Professional Business Review, 7(1), e0279.
P.B.Jaykumar &Goutam Das ( Feb 2019), Embracing 4.0 industry, Business today ,Proven strategies for increasing employee productivity (2019) https://blog.hubsstuff.com
Reinhard, G., Jesper, V., & Stefan, S. (2016). Industry 4.0: Building the digital enterprise. PwC.
Schuh, G., Anderl, R., Dumitrescu, R., Krüger, A., & ten Hompel, M. (2020). Using the industrie 4.0 maturity index in industry. Current Challenges, Case Studies and Trends. Acatech COOPERATION.
Schlötzer, F. (2015). The dynamics of the digitalization and its implications for companies' future enterpriserisk management systems and organizational structures. Copenhagen: Copenhagen Business School.
Schumacher, A., Erol, S., & Sihn, W. (2016). A maturity model for assessing Industry 4.0 readiness and maturity of manufacturing enterprises. Procedia Cirp, 52, 161-166
Shamim, S., Cang, S., Yu, H., & Li, Y. (2016, July). Management approaches for Industry 4.0: A human resource management perspective. In 2016 IEEE congress on evolutionary computation (CEC) (pp. 5309-5316). IEEE.
Sridhar, S. (2019). Leadership Role in Making Effective use of Innovation in Industry 4.0. International Journal of Recent Technology and Engineering, 8, 256-260.
Thomas brand ( 2013 ) "How Important Is Industry 4.0,for the Electronics Industry?" , https://www.analog.com/en/technical-articles/how-important-is-industry-4-0-for-the-electronics- industry.html,Email :[email protected]
Weyer, S., Schmitt, M., Ohmer, M., & Gorecky, D. (2015). Towards Industry 4.0-Standardization as the crucial challenge for highly modular, multi-vendor production systems. Ifac-Papersonline, 48(3), 579-584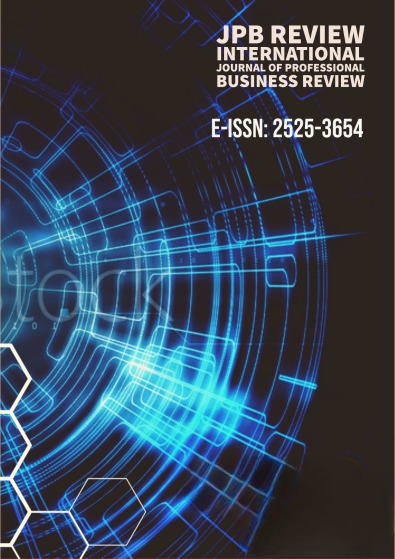 Downloads
How to Cite
Sridhar, S., Ponniah, V., & S, S. (2023). The Need for Kaizen Culture for Manufacturing Industries in Industry 4.0. International Journal of Professional Business Review, 8(5), e01299. https://doi.org/10.26668/businessreview/2023.v8i5.1299
License
Copyright (c) 2023 Sundararajan Sridhar, V.M. Ponniah, Sujatha S
This work is licensed under a Creative Commons Attribution-NoDerivatives 4.0 International License.
Authors who publish in this journal agree to the following terms: the author(s) authorize(s) the publication of the text in the journal;
The author(s) ensure(s) that the contribution is original and unpublished and that it is not in the process of evaluation by another journal;
The journal is not responsible for the views, ideas and concepts presented in articles, and these are the sole responsibility of the author(s);
The publishers reserve the right to make textual adjustments and adapt texts to meet with publication standards.
Authors retain copyright and grant the journal the right to first publication, with the work simultaneously licensed under the Creative Commons Atribuição NãoComercial 4.0 (http://creativecommons.org/licenses/by-nc/4.0/), which allows the work to be shared with recognized authorship and initial publication in this journal.
Authors are allowed to assume additional contracts separately, for non-exclusive distribution of the version of the work published in this journal (e.g. publish in institutional repository or as a book chapter), with recognition of authorship and initial publication in this journal.
Authors are allowed and are encouraged to publish and distribute their work online (e.g. in institutional repositories or on a personal web page) at any point before or during the editorial process, as this can generate positive effects, as well as increase the impact and citations of the published work (see the effect of Free Access) at http://opcit.eprints.org/oacitation-biblio.html