Beyond Covid-19: The Future of Festivals in Calabarzon, Philippines
Keywords:
Festivals, Post-Pandemic, Qualitative Research, Community Development, Snowball Sampling
Abstract
Purpose: This study aims to determine or forecast the willingness of regular participants of festivals to attend or join events festivals in the post-COVID-19 scenario. Specifically, it aimed to 1.) identify the perceived future of festivals in the post-pandemic scenario and if people are still willing to participate in or join in any of the festival's events, and 2.) discuss the role of festivals in the post-pandemic scenario.
Theoretical framework: The researchers employed the stakeholder theory technique to predict the future of the festival's events. A stakeholder is "any group or person who may impact or is affected by the attainment of the institution's objective," Freeman (1984). Freeman contends that a person or group is a stakeholder if it has a sincere interest in a particular component of the institution's operations and, as a result, either can influence the company's performance or has a stake in that performance. Particularly, in this study, the stakeholders are the participants, the businessmen, and the organizers of the festivals. Ultimately, the perception of the stakeholders may be used by festival organizers as a basis for holding festivals in the post-pandemic scenario.
Design/methodology/approach: This study used a qualitative design using phenomenological approach based on the lived experiences of the participants with the festivals they have attended. Snowball sampling was used to choose 32 participants, commencing with the tourist local government official that had control over the festival events. The researchers utilized key informant interviews and focus group discussions on obtaining data, guided by a semi-structured questionnaire to allow the researchers to adjust questions according to the participant's willingness and manner of answering. For data clustering and theme identification, the researchers utilized a qualitative research tool (NVIVO) with license key: (N-L-Z-7-7) and used the analytical framework by Moustakas (1994), as covered by Creswell (2007). The researchers began by outlining the subject's or participant's encounters concerning the festivals being examined. Next, they created collection of noteworthy remarks and organized these into more substantial units of information (i.e., units or themes).
Findings: As a result, every participant is eager to engage, be present, or take part in their respective festivals again, once the COVID-19 restrictions are removed, but some have a few reservations.
Implications for research, everyday life, and society: In the Philippines, the COVID-19 restrictions were lifted in 2023. This is also a time for the local economy to recover. The series of lockdowns heavily hampered the local economy due to the pandemic. The local governments may use festivals to help small, medium, and microenterprises recover from the losses they took during the pandemic, and festivals. can kick start the local economy. Festival organizers may utilize the findings of this research as a foundation.
Originality/value: All the data gathered in this research was at the peak of lockdowns and cases of COVID-19 in the Philippines. This made it very difficult for the researchers to collect data, thus resulting in an integration of in-person interactions, key informant interviews and online focus group discussions. It was a time when mass gatherings were hard to imagine, let alone the celebration of festivals uncertain. Nevertheless, the result was surprising since all the participants were still willing to join or attend festivals.
Downloads
Download data is not yet available.
References
Arwani, A. ., Salenussa, S. ., Rahayu, N. W. I. ., Faiz, M. F. ., Cakranegara, P. A. ., Aziz, A. ., & Andiyan, A. . (2022). The Development of Economic Potential Of People In Pandemic Through Earning Zakat Distribution. International Journal of Professional Business Review, 7(2), e0414. https://doi.org/10.26668/businessreview/2022.v7i2.414
Allan Jepson, Alan Clarke & Gillian Ragsdell (2014) Investigating the Application of the Motivation–Opportunity–Ability Model to Reveal Factors Which Facilitate or Inhibit Inclusive Engagement Within Local Community Festivals, Scandinavian Journal of Hospitality and Tourism, 14:3, 331-348, DOI: 10.1080/15022250.2014.946230
Calopez, C. G., Gaas, Lleva, G., Maneclang, D. and Fusin, D. (2011). The Ati-atihan Festival: Its impact to the economy and tourism industry in Kalibo, Aklan. JPAIR Multidisciplinary Journal, 6, 261-274. ISSN 2012398.
Cantos, J. (2012). Experience the ultimate fiesta in Balayan's 'Parada ng Lechon'. Retrieved from http://www.wowbatangas.com/features/events/experience-the-ultimate-fiesta-in-balayans-parada-ng-lechon/ March 02, 2020, 11:12am.
Chacko, H. and Schaffer, J. (1993) The evolution of a festival: Creole Christmas in New Orleans. Tourism Management 14(4), 475–482
Creswell, J. W. (2007). Qualitative Inquiry & Research Design. Choosing Among Five Approaches. California: Sage Publications, Inc/Thousand Oaks.
Cole, S. (2007). Beyond authenticity and commodification. Annals of Tourism Research, 34 (4), 943-960.
Deccio, R. (2012). Anilag Festival: Showcasing the Harvests of Laguna. Retrieved from https://www.vigattintourism.com/tourism/articles/Anilag-Festival-Showcasing-the-Harvests-of-Laguna/ March 2, 2020, 11:03 am.
Decco, C. & Baloglu, S. (2002). Non-host community resident reactions to the 2002 Winter Olympics: The spillover impacts. Journal of Travel Research, 41(1), 46-56.
Derrett, R. (2003). Making sense of how festivals demonstrate a community's sense of place. Event Management, 8(1), 49-58.
Dugas, K. J., & Schweitzer, J. H. (1997). Sense of community and the development of block culture (Ronald E. McNair Post Baccalaureate achievement program). Retrieved from Michigan State University website www.msu.edu/socomm/paper1997.htm
Dwyer, L., Mellor, R., Mistilis, N. & Mules, T. (2001). Forecasting the economic impacts of events and conventions. Event Management, 6, 191-204.
Fallasi, A. (1987). Time Out of Time: Essays on the Festival. University of New Mexico Press, 1-10.
Freeman, R. E. (1984). Strategic management: A stakeholder approach. Boston: Pitman.
Getz, D. (1989). Special events: Defining the product. Tourism Management. June, 125-137.
Getz, D. (1997). Trends and Issues in Sport Event Tourism. Tourism Recreation Research, 22(2), 61-62, DOI: 10.1080/02508281.1997.11014804
Getz, D. (2005). Event management and event tourism (2nd Ed.). New York: Cognizant.
Getz, D. (2007). Event Studies. Theory, research and policy for planned events. Oxford: Butterwork Heinemann.
Getz, D. (2010). The nature and scope of festival studies. International Journal of Event Management Research, 5, 1 http://www.ijemr.org/docs/Vol5-1/Getz.pdf.
Gotham, K. (2005). Theorizing urban spectacles. Festivals, tourism and the transformation of urban space. City, 9(2), 225-245.
Hall, C.M. (1992). Hallmark Tourist Events: Impacts, Management, and Planning. London: Belhaven Press.
Kenyon, P. (2002). The Role of Events in Rural Revitalization. Presentation at the Events and Placemaking Conference, July 2002. Centre for Event Management: Sydney, Australia.
Lee-Anant, C. (2022). New Normal Creative Pop-Culture Tourism Promotion in Chiang Mai, Lamphun, and Lampang for Chinese Tourists. International Journal of Professional Business Review, 7(6), e0473. https://doi.org/10.26668/businessreview/2022.v7i6.e473
Lee, C. K., Lee, Y. K., & Lee, B. (2005). Korea's destination image formed by the 2002 World Cup. Annals of Tourism Research, 32(4), 839-858.
Luna, Ande M., Dizon, Josefina T., Quimbo, Maria Ana, T., Paunlagui, Merlyn, M., & Baconguis, Rowena DT., (2022). Commercialization and Commoditization of Festivals in Calabarzon, Philippines. https://resmilitaris.net/menu-script/index.php/resmilitaris/article/view/1729
Marcial, E. B. (2020). Home of the Higantes Festival- Angono, Rizal. https://angono.gov.ph/?p=1336
Quinn, B. (2006). Problematizing 'Festival Tourism': Arts Festivals and Sustainable Development in Ireland. Journal of Sustainable Tourism, 14 (3), 288-306. Available at: http://dx.doi.org/10.1080/09669580608669060 [Accessed 23 July 2009].
Quinn, B. & Wilks, L. (2013). Festival Connections: People, Place and Social Capital. 10.13140/2.1.2269.7281.
Raj, R. (2003). Religious Tourism and Pilgrimage Management I. eds. Wallingford, U.K.: CABI Publishing.
Ritchie, J. R. B. (1984). Assessing the Impact of Hallmark Events: Conceptual and Research Issues. Journal of Travel Research, 23, 2-11.
Ritchie, J. R. B. & Aitken, C. E. (1984). Assessing the impacts of the 1988 Olympic Winter Games: the research program and initial results. Journal of Travel Research, 22(3), 17-25.
Ritchie, J. R. B. & Smith, B. H. (1991). The Impact of a Mega-Event on Host Region Awareness: A Longitudinal Study. Journal of Travel Research, 30(1), 3–10. https://doi.org/10.1177/004728759103000102.
Toriano, T.J. (2009). Kalibo Sto. Niño Ati-Atihan Festival Continues to Receive Visitors. Friday, 16 January 2009. Retrieved from http://www.kalibo.gov.ph/ April 13, 2014, 10:30pm
Zutshi, A. R. (2020). 12 most popular festivals in Philippines. Retrieved from https://traveltriangle.com/blog/festivals-in-philippines/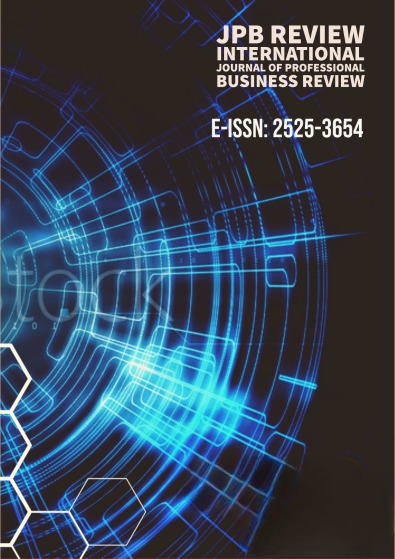 Downloads
How to Cite
Luna, A. M., Dizon, J. T., Corpuz, J. T., Flordeliza, M. A., & Espiritu, P. J. S. (2023). Beyond Covid-19: The Future of Festivals in Calabarzon, Philippines. International Journal of Professional Business Review, 8(5), e01395. https://doi.org/10.26668/businessreview/2023.v8i5.1395
License
Copyright (c) 2023 Ande M. Lunaa, Josefina T. Dizonb, Jaysi T. Corpuzc, Myra A. Flordelizad, Patrick John S. Espiritue
This work is licensed under a Creative Commons Attribution-NoDerivatives 4.0 International License.
Authors who publish in this journal agree to the following terms: the author(s) authorize(s) the publication of the text in the journal;
The author(s) ensure(s) that the contribution is original and unpublished and that it is not in the process of evaluation by another journal;
The journal is not responsible for the views, ideas and concepts presented in articles, and these are the sole responsibility of the author(s);
The publishers reserve the right to make textual adjustments and adapt texts to meet with publication standards.
Authors retain copyright and grant the journal the right to first publication, with the work simultaneously licensed under the Creative Commons Atribuição NãoComercial 4.0 (http://creativecommons.org/licenses/by-nc/4.0/), which allows the work to be shared with recognized authorship and initial publication in this journal.
Authors are allowed to assume additional contracts separately, for non-exclusive distribution of the version of the work published in this journal (e.g. publish in institutional repository or as a book chapter), with recognition of authorship and initial publication in this journal.
Authors are allowed and are encouraged to publish and distribute their work online (e.g. in institutional repositories or on a personal web page) at any point before or during the editorial process, as this can generate positive effects, as well as increase the impact and citations of the published work (see the effect of Free Access) at http://opcit.eprints.org/oacitation-biblio.html