The Role of Information Management Systems in the Implementation of the Digital Economy Development Strategy
Keywords:
Information Systems, Management, Strategy, Digital Economy, Business Processes
Abstract
Purpose: The aim of this study is to demonstrate the role that management information systems can play in developing the digital economy.
Theoretical framework. The theory of optimal discrete-continuous control, the principles of Pontryagin, Bellman and Markov and the theory of the development of digital interactions were used.
Design/methodology/approach: The systematic literature review was built from the content analysis of papers from the Web of Science and Scopus database. The papers were analyzed from descriptive, bibliographic, methodological, results and citation characteristics.
Findings: From the results, it was noted that Russia is the absolute position in studies related to digital economies and the role that management information systems can play in developing and achieving strategic development, growth and efficiency.
Research, Practical & Social implications: Many more publications could not be included for  generalisation  reasons  because  the  study  included  data  from  two  databases. Additionally, our research shows that there aren't many journals that have written about cause-related digital economy.
Originality/value. A model of digital control and development of digital interactions has been proposed and investigated, which takes into account the influence of the "white noise" effect in the system.
Downloads
Download data is not yet available.
References
Al-Hasan A., Khalil O., Yim D. (2021). Digital information diversity and political engagement: The impact of website characteristics on browsing behavior and voting participation // Information Polity. No. 26(1), P.21–37. DOI: 10.3233/IP-190183.
Budnikova N.S., Kiryukhina O.I. (2021). State support for the development of the digital economy in Russia [Electron. Res] / The Bryansk branch of the Russian Academy of National Economy and Public Service under the President of the RF, Russia, and Bryansk. P.63-67. ISBN 978-5-98573-298-6
Eriashvili N.D., Ivanova Yu. A., Radchenko T.V. (2021). Global problems of mankind and ways to solve them // Bulletin of the Moscow University of the Ministry of Internal Affairs of Russia. No.1. P.36-42. DOI 10.24412/2073-0454-2021-1-36-42.
Eubank N., Grossman G., Platas M.R., Rodden J., Viral V. (2021). Social networks and political participation // Quarterly Journal of Political Science. No.16 (3), P.265–284. DOI:10.1561/100.00019092.
Falko A.I., Somina I.V. (2022). International practices of assessing digitalization as a determinant of the innovative development of the economy: research based on the index method // Issues of the innovative economy. Vol.12. No.1. P.595-606. DOI:10.18334/vinec.12.1.113872
Gromov I.A. (2018). Influence of digital technologies on the sphere of public and business services in Russia // Problems of modern economy. No.3 (67). P.43-47.
Ivanov V.V., Malinetsky G.G. (2017). Digital economy: myths, reality, perspective. -Moskva: RAS, 63 p. ISBN 978-5-906906-04-5.
Kaziev V.M., Kazieva B.V. (2019). Distributed and "crowd*" interaction – the basis of the digital economy and education / Collection of articles "Social technologies for working with young people in the context of the formation of a digital society": International scientific and practical conference.Ufa: Bashsu. P.142-146.ISBN 978-5-7477-5027-2.
Mark H.M., (2021). Creating Public Value: The Core Idea of Strategic Management in Government, Intern. Journal of Profess. Bus. Review; São Paulo V.6 N.1 2021, pp. 1-2, Jan/Dec.2021. DOI: http://dx.doi.org/10.26668/businessreview/2021.v6i1.219
Menteş S.A. (2019). Online environmental activism: The case of Iğneada floodplain forest // SAGE Open. P.1–10. DOI: 10.1177/2158244019877877
Naumenko R.V., Nesterenko E.S. (2019). Systematic approach as the basis of the conceptual and categorical apparatus of the digital economy // Creative economy. No.5. P.911–926. DOI:10.18334/ce.13.5.40589
Panshin B. (2019). Digital economy: concepts and directions of development // Science and innovation. No.3 (193). P.48-55.
Pozovikhina M.A. (2018). Digital economy as a socio-economic phenomenon // Economic and social problems of Russia. No.1 (37). P.8-38.
Sannikova E.A. (2017). Evaluation of the effectiveness of the HR management system in the organization // Modern scientific research and innovation. No. 3 [Electronic resource]. URL: https://web.snauka.ru/issues/2017/03/79494 (accessed date: 20.08.2021)
Shakatreh, M., Mansour, A. M.A., Alatyat .Z. A., (2022), corporate tax features in Jordan affecting business decisions: strengthening finance accountability in emerging economies, Intern. Journal of Profess. Bus. Review.| Miami. V 7 |n. 4| p. 01-18|e0739| 2022. DOI: https://doi.org/10.26668/businessreview/2022.v7i4.e739
Shilov G.E. (1961). Mathematical analysis. Special course. Moscow. GIFML. 436 p.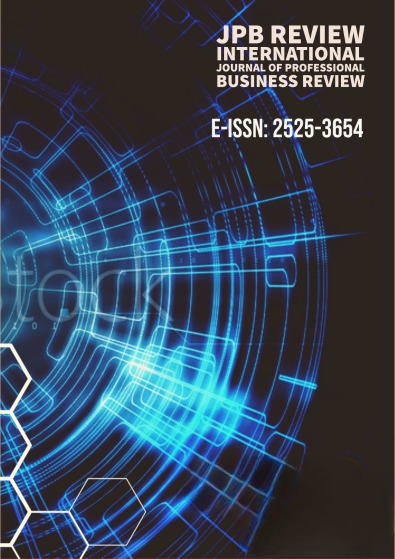 Downloads
How to Cite
Ahmed, D. A., Ibrahim, M. A., & Saeed, Y. J. (2023). The Role of Information Management Systems in the Implementation of the Digital Economy Development Strategy. International Journal of Professional Business Review, 8(5), e01419. https://doi.org/10.26668/businessreview/2023.v8i5.1419
License
Copyright (c) 2023 Dahlia Abdulhussain Ahmed, Mustafa Ali Ibrahim, Yasir Jihad Saeed
This work is licensed under a Creative Commons Attribution-NoDerivatives 4.0 International License.
Authors who publish in this journal agree to the following terms: the author(s) authorize(s) the publication of the text in the journal;
The author(s) ensure(s) that the contribution is original and unpublished and that it is not in the process of evaluation by another journal;
The journal is not responsible for the views, ideas and concepts presented in articles, and these are the sole responsibility of the author(s);
The publishers reserve the right to make textual adjustments and adapt texts to meet with publication standards.
Authors retain copyright and grant the journal the right to first publication, with the work simultaneously licensed under the Creative Commons Atribuição NãoComercial 4.0 (http://creativecommons.org/licenses/by-nc/4.0/), which allows the work to be shared with recognized authorship and initial publication in this journal.
Authors are allowed to assume additional contracts separately, for non-exclusive distribution of the version of the work published in this journal (e.g. publish in institutional repository or as a book chapter), with recognition of authorship and initial publication in this journal.
Authors are allowed and are encouraged to publish and distribute their work online (e.g. in institutional repositories or on a personal web page) at any point before or during the editorial process, as this can generate positive effects, as well as increase the impact and citations of the published work (see the effect of Free Access) at http://opcit.eprints.org/oacitation-biblio.html