Remote Onboarding Effectiveness in Indian it Industry During the Pandemic
Keywords:
Information Technology, Human Resource Management, Onboarding, HR Challenges, COVID-19
Abstract
Purpose: The outbreak and impact of COVID-19 has definitely caused the most drastic and rapid shift to the global workforce. The Information Technology (IT) industry was amongst early responders who adopted a remote working model. The aim of this study was to understand the effectiveness of remote onboarding experience in the IT companies.
Design/methodology/approach: The perceived benefits of remote working such as creating valuable opportunities for cost saving and greater flexibility for staff has caused many businesses to understand it is a beneficial model of working in the future and hence adopt it. Now that remote working is here to stay, this research studied the experience of the employees who were recruited in the years 2019 and 2020 into various IT organisations. A survey was circulated to understand this effect and a total of 126 employees participated from 21 IT Companies across India. The validity and reliability of the questionnaire was verified and the data was analyzed using SPSS V22.
Findings: The results indicated that there is a significant difference in the joining experience between the two groups. The findings showed that the physical joining experience worked better as it helped in a higher employee satisfaction and hence helped learning the job faster. While the remote induction process seemed effective, the gaps pertain to lack of a structured onboarding process, knowledge transfer and supervisor interventions that are relevant for the remote working world.
Research, Practical & Social implications: Organizations should understand the importance of making a good first impression with the new joiners. They should ensure smoother interventions that could enhance the culture immersion and knowledge transfer process. 
Originality/value: Most Indian IT companies have always allowed employees to work remotely. However, even these employees were required to be physically present for the onboarding process. Remote onboarding as a process did not exist prior to the pandemic and hence this study touches upon a lesser researched topic. The research recommendations provided in our study could help bridge the gaps and provide a better employee remote joining experience.
Downloads
Download data is not yet available.
References
Basu, S., & Sarkar, B. (2021). Companies back to work from office with 70-100% staffers. The Economic Times. https://economictimes.indiatimes.com/news/company/corporate-trends/companies-back-to-work-from-office-with-70-100-staffers/articleshow/80416439.cms
Cable, D., Gino, F., & Staats, B. (2013). Reinventing Employee Onboarding. MIT Sloan Management Review.
Davison, R. M. (2020). The transformative potential of disruptions: A viewpoint. International Journal of Information Management, 55, 102149.
Dery, K., & Hafermalz, E. (2016). Seeing is belonging: Remote working, identity and staying connected. The impact of ICT on work. Springer, 2016, pp. 109–126.
Hemphill, L., & Begel, A. (2011). Not Seen and Not Heard: Onboarding challenges in newly virtual teams. Microsoft Research. 131.107, vol. 65, 2011.
Hill, E.J., Miller, B.C., Weiner, S.P., & Colihan, J. (1998). Influences of the virtual office on aspects of work and work/life balance. Personnel psychology, vol. 51, no. 3, pp. 667–683.
Johnson, L. (2005). Get your new managers moving. Harvard Management Update, vol. 10, no. 6, 2005.
Manikandan, G., Murugaiah, S., Velusamy, K., Ramesh, A. B. K., Rathinavelu, S., Viswanathan, R., & Jageerkhan, M. N. (2022). Work Life Imbalance and Emotional Intelligence: a Major Role and Segment Among College Teachers. International Journal of Professional Business Review, 7(6), e0832.
Penpokai, S., Vuthisopon, S., & Saengnoree, A. (2023). The Relationships Between Technology Adoption, HR Competencies, and HR Analytics of Large-Size Enterprises. International Journal of Professional Business Review, 8(3), e0971. https://doi.org/10.26668/businessreview/2023.v8i3.971
Rodeghero, P., Zimmermann, T., & Houck, B. (2020). Please Turn Your Cameras On: Remote Onboarding of Software Developers during a Pandemic. arXiv. https://arxiv.org/abs/2011.08130
T. N. Bauer. (2010). Maximizing Success. SHRM Foundation's Effective Practice Guidelines Series.
Taskin, L., & Bridoux, F. (2010). Telework: a challenge to knowledge transfer in organizations. The International Journal of Human Resource Management.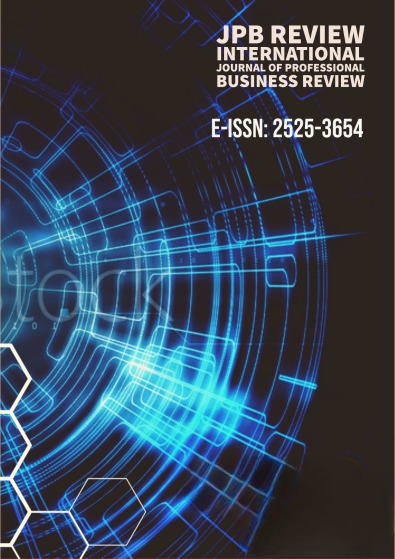 Downloads
How to Cite
Santhanam, G., & Balaji, K. D. (2023). Remote Onboarding Effectiveness in Indian it Industry During the Pandemic. International Journal of Professional Business Review, 8(5), e01457. https://doi.org/10.26668/businessreview/2023.v8i5.1457
License
Copyright (c) 2023 Gokul Santhanam, K. D. Balaji
This work is licensed under a Creative Commons Attribution-NoDerivatives 4.0 International License.
Authors who publish in this journal agree to the following terms: the author(s) authorize(s) the publication of the text in the journal;
The author(s) ensure(s) that the contribution is original and unpublished and that it is not in the process of evaluation by another journal;
The journal is not responsible for the views, ideas and concepts presented in articles, and these are the sole responsibility of the author(s);
The publishers reserve the right to make textual adjustments and adapt texts to meet with publication standards.
Authors retain copyright and grant the journal the right to first publication, with the work simultaneously licensed under the Creative Commons Atribuição NãoComercial 4.0 (http://creativecommons.org/licenses/by-nc/4.0/), which allows the work to be shared with recognized authorship and initial publication in this journal.
Authors are allowed to assume additional contracts separately, for non-exclusive distribution of the version of the work published in this journal (e.g. publish in institutional repository or as a book chapter), with recognition of authorship and initial publication in this journal.
Authors are allowed and are encouraged to publish and distribute their work online (e.g. in institutional repositories or on a personal web page) at any point before or during the editorial process, as this can generate positive effects, as well as increase the impact and citations of the published work (see the effect of Free Access) at http://opcit.eprints.org/oacitation-biblio.html