Corporate Environmental Performance as a Mediator Between Eco-Efficiency Strategy and Financial Performance in Jordanian Industrial Sectors
Keywords:
Eco-Efficiency Strategy, Corporate Environmental Performance, Financial Performance, Jordanian Industrial Sector
Abstract
Purpose: The purpose of this study is to examine examine corporate environmental performance (CEP) as a mediator between eco-efficiency strategy and financial performance.
Theoretical framework: The application of the corporate environmental performance item is weak since it is not documented at that time, and there are also financial and eco-efficiency plan weaknesses. Also, the goal of the present study is to advance, add to the body of literature, and fill in any gaps.
Design/methodology/approach: The study employed a survey-based cross-sectional study that included industrial, service, and real estate firms registered under the Amman Stock Exchange. A total of 230 questionnaires were distributed to the managers in health and safety, finance, and operational firms. Ultimately, 209 (90.8%) of the questionnaires were included for further analysis.
Findings: The results revealed that efficiency strategy and CEP significantly influenced corporate financial performance, whereas efficiency strategy significantly influenced CEP. Moreover, CEP mediated the relationship between efficiency strategy and corporate financial performance. Nonetheless, the study was limited to eco-efficiency strategy.
Research, Practical & Social implications: The study of Jordanian industry, service, and real estate companies' Eco-Efficiency Strategy scores includes their environmental performance, which may be utilized to determine the primary influence factor on their financial success. This study offers insightful information for policymakers.
Originality/value: The study's significance is that, in order to increase the financial success of these businesses, governments must pay more attention to the environment and the factors that influence it.
Downloads
Download data is not yet available.
References
Abdul Rashid, S. H., Evans, S., & Longhurst, P. (2008). A comparison of four sustainable manufacturing strategies. International Journal of Sustainable Engineering, 1(3), 214-229.
Adinehzadeh, R., Jaffar, R., Shukor, Z. A., Rahman, A., & Che, M. R. (2018). the mediating role of environmental performance on the relationship between corporate governance mechanisms and environmental disclosure. Asian Academy of Management Journal of Accounting & Finance, 14(1).
Aladwan, M. (2018). "Undertaking of environmental accounting responsibility to achieve sustainable development: evidence from Jordanian chemical and mining companies." International Journal of managerial and financial accounting 10(1): 48-64.
Alalade, S., & Oguntodu, J. (2015). Motivation and Employees Performance in the Nigerian Banking Industry. International Journal of Economics, Commerce, and Management, 3(4).
Albertini, E. (2013). Does environmental management improve financial performance? A meta-analytical review. Organization & Environment, 26(4), 431-457.
Alsayegh, M. F., et al. (2020). "Corporate economic, environmental, and social sustainability performance transformation through ESG disclosure." Sustainability 12(9): 3910.
Al Muala, I., Al-Ghalabi, R. R., Ghaith, A., Hamdan, K. B., & Alnawafleh, E. A. T. (2022). Evaluating the Effect of Organizational Justice on Turnover Intention in the Public Hospitals of Jordan: Mediated-Moderated Model of Employee Silence, Workplace Bullying, and Work Stress. International Journal of Professional Business Review: Int. J. Prof. Bus. Rev., 7(3), 3.
Alnaim, M., Sulong, F., Salleh, Z., & Ghaith, A. (2022). Conceptual paper on corporate environmental performance as mediating between innovation and financial performance in Jordanian industrial sector. Academy of Strategic Management Journal, 21, 1-9.
Al-Qaisi, K. M., et al (2017). "Banks Performance of the MENA Region during the Global Financial Crisis. International Journal of Applied Business and Economic Research.ISSN : 0972-7302.Volume 15:475-467.
Andrews, K. R. (1998). The concept of corporate strategy. Resources, firms, and strategies: A reader in the resource-based perspective, 52.
Aragón-Correa, J. A., Hurtado-Torres, N., Sharma, S., & García-Morales, V. J. (2008). Environmental strategy and performance in small firms: A resource-based perspective. Journal of environmental management, 86(1), 88-103.
Atkin, T., Gilinsky Jr, A., & Newton, S. K. (2012). Environmental strategy: does it lead to competitive advantage in the US wine industry? International Journal of Wine Business Research, 24(2), 115-133.
Bansal, P. (2005). Evolving sustainably: A longitudinal study of corporate sustainable development. Strategic management journal, 26(3), 197-218.
Benoit, S., Margni, M., Bouchard, C., & Pouliot, Y. (2019). A workable tool for assessing eco-efficiency in dairy processing using process simulation. Journal of cleaner production, 236, 117658.
Brady, K., Henson, P., & Fava, J. A. (1999). Sustainability, eco‐efficiency, life‐cycle management, and business strategy. Environmental Quality Management, 8(3), 33-41.
Charter, M. and U. Tischner (2017). Sustainable solutions: developing products and services for the future, Routledge.
Chiou, T.-Y., Chan, H. K., Lettice, F., & Chung, S. H. (2011). The influence of greening the suppliers and green innovation on environmental performance and competitive advantage in Taiwan. Transportation Research Part E: Logistics and Transportation Review, 47(6), 822-836.
Christmann, P. (2000). Effects of "best practices" of environmental management on cost advantage: The role of complementary assets. Academy of management journal, 43(4), 663-680.
Cormier, D., Magnan, M., & Morard, B. (1993). The impact of corporate pollution on market valuation: some empirical evidence. Ecological economics, 8(2), 135-155.
Creswell, J. W. (2012). Educational research: Planning, conducting, and evaluating quantitative and qualitative research (4th ed.). Boston, MA: Pearson Education.
Delice, A. (2010). The Sampling Issues in Quantitative Research. Educational Sciences: Theory and Practice, 10(4), 2001-2018.
Delmas, M., & Blass, V. D. (2010). Measuring corporate environmental performance: the trade‐offs of sustainability ratings. Business strategy and the environment, 19(4), 245-260.
Dixon-Fowler, H. R., Slater, D. J., Johnson, J. L., Ellstrand, A. E., & Romi, A. M. (2013). Beyond "does it pay to be green?" A meta-analysis of moderators of the CEP–CFP relationship. Journal of business ethics, 112(2), 353-366.
Dragomir, V. D. (2018). How do we measure corporate environmental performance? A critical review. Journal of cleaner production, 196, 1124-1157.
Dyllick, T., & Hockerts, K. (2002). Beyond the business case for corporate sustainability. Business strategy and the environment, 11(2), 130-141.
Ekins, P. (2005). Eco-efficiency: motives, drivers and economic implications. Journal of Industrial Economy, 9(4), 12-14.
Epstein, M. J., & Roy, M.-J. (1997). Environmental management to improve corporate profitability. Journal of Cost Management, 11(6), 26-34.
Eshna, T. (2016). Financial Performance-Understanding its Concepts and Importance. Retrieved on 9th June.
Feldman, S. J., Soyka, P. A., & Ameer, P. G. (1997). Does improving a firm's environmental management system and environmental performance result in a higher stock price? The Journal of Investing, 6(4), 87-97.
Fousteris, A., Didaskalou, E., Tsogas, M.-M., & Georgakellos, D. (2018). The Environmental Strategy of Businesses as an Option under Recession in Greece. Sustainability, 10(12), 4399.
Gatimbu, K. K., Ogada, M. J., Budambula, N., & Kariuki, S. (2018). Environmental sustainability and financial performance of the small‐scale tea processors in Kenya. Business strategy and the environment, 27(8), 1765-1771.
Ghisetti, C., & Rennings, K. (2014). Environmental innovations and profitability: How does it pay to be green? An empirical analysis on the German innovation survey. Journal of cleaner production, 75, 106-117.
Goffman, E. (1959). The presentation of self in everyday life St. Ives: Penguin.
Grekova, K., Bremmers, H., Trienekens, J., Kemp, R., & Omta, S. (2013). The mediating role of environmental innovation in the relationship between environmental management and firm performance in a multi-stakeholder environment. Journal on Chain and Network Science, 13(2), 119-137.
Hair, J. F., Black, W. C., Babin, B. J., Anderson, R. E., & Tatham, R. L. (2010). Multivariate data analysis: A global perspective: Upper Saddle River, NJ: Pearson.
Hair, J. F., Hult, G. T. M., Ringle, C., & Sarstedt, M. (2016). A primer on partial least squares structural equation modeling (PLS-SEM): Sage Publications.
Hart, S. L. (1995). A natural-resource-based view of the firm. Academy of Management Review, 20(4), 986-1014.
Hart, S. L., & Ahuja, G. (1996). Does it pay to be green? An empirical examination of the relationship between emission reduction and firm performance. Business strategy and the environment, 5(1), 30-37.
Henderson, R. M. (2015). "Making the business case for environmental sustainability." Harvard Business School working paper series# 15-068.
Hermawan, S., Sari, Y. A., Biduri, S., Rahayu, D., & Rahayu, R. A. (2023). Corporate Social Responsibility, Firm Value, and Profitability: Evidence from Pharmaceutical Companies in Indonesia and Malaysia. International Journal of Professional Business Review, 8(2), e0625-e0625.
Hourneaux Jr, F., Hrdlicka, H. A., Gomes, C. M., & Kruglianskas, I. (2014). The use of environmental performance indicators and size effect: A study of industrial companies. Ecological indicators, 36, 205-212.
Huppes, G., & Ishikawa, M. (2005). Eco‐efficiency and Its xsTerminology. Journal of Industrial ecology, 9(4), 43-46.
Hussainey, K. and A. Salama (2010). "The importance of corporate environmental reputation to investors." Journal of Applied Accounting Research.
Ichimura, M., Nam, S., Bonjour, S., Rankine, H., Carisma, B., Qiu, Y., & Khrueachotikul, R. (2009). Eco-efficiency Indicators: Measuring Resource-use Efficiency and the Impact of Economic Activities on the Environment. ESCAP: Bangkok, Thailand.
Jollands, N., & Patterson, M. (2004). Four theoretical issues and a funeral: improving the policy-guiding value of eco-efficiency indicators. International Journal of Environment and Sustainable Development, 3(3-4), 235-261.
Kang, S.-W. (2016a). Corporate Organizational Capabilities, Proactive Environmental Strategy and Financial Performance. (Doctor of Philosophy), Griffith University.
Klassen, R. D., & McLaughlin, C. P. (1996). The impact of environmental management on firm performance. Management science, 42(8), 1199-1214.
Korhonen, J., & Seager, T. P. (2008). Beyond eco‐efficiency: a resilience perspective. Business strategy and the environment, 17(7), 411-419.
Lagas, F. (2013). "The effect of corporate social performance on shareholder wealth in mergers & acquisitions." Tilburg University, School of Economics and Management.
Lehni, M. (2000). Eco-efficiency: Creating More Value with Less Impact (Geneva: World Business Council for Sustainable Development).
Lewandowski, S. (2018). Corporate Carbon and Financial Performance: A Meta‐analysis. Journal of Industrial ecology, 22(4), 745-759.
López-Gamero, M. D., Molina-Azorín, J. F., & Claver-Cortés, E. (2009). The whole relationship between environmental variables and firm performance: Competitive advantage and firm resources as mediator variables. Journal of environmental management, 90(10), 3110-3121.
Lucato, W. C., Costa, E. M., & de Oliveira Neto, G. C. (2017). The environmental performance of SMEs in the Brazilian textile industry and the relationship with their financial performance. Journal of environmental management, 203, 550-556.
Machdar, N. M. (2017). "Corporate financial performance, corporate environmental performance, corporate social performance and stock return." Jurnal Manajemen dan Kewirausahaan (Journal of Management and Entrepreneurship) 19(2): 118-124.
Madden, K., Young, R., Brady, K., & Hall, J. (2005). Eco-efficiency: Learning Module. World Business Council for Sustainable Development, File Winds International.
Markman, G. D., & Gartner, W. B. (2002). Is extraordinary growth profitable? A study of Inc. 500 high–growth companies. Entrepreneurship theory and practice, 27(1), 65-75.
Matisoff, D. C., Noonan, D. S., & O'Brien, J. J. (2013). Convergence in environmental reporting: assessing the Carbon Disclosure Project. Business strategy and the environment, 22(5), 285-305.
Micheli, G., Cagno, E., & Tappia, E. (2018). Improving Eco-Efficiency through Waste Reduction beyond the Boundaries of a Firm: Evidence from a Multiplant Case in the Ceramic Industry. Sustainability, 10(1), 167.
Mohr, R. D. (2002). Technical change, external economies, and the Porter hypothesis. Journal of environmental economics and management, 43(1), 158-168.
Morgan, K., Robert, V., & Daryle, W. (1970). Determining Sample Size for Research from http://opa. uprrp. edu/InvInsDocs. KrejcieandMorgan. pdf.
Moura-Leite, R. C., et al. (2014). "Stakeholder management and nonparticipation in controversial business." Business & Society 53(1): 45-70.
Nagy, J., et al. (2018). "The role and impact of Industry 4.0 and the internet of things on the business strategy of the value chain—the case of Hungary." Sustainability 10(10): 3491
Nahapiet, J., & Ghoshal, S. (1998). Social capital, intellectual capital, and the organizational advantage. Academy of management review, 23(2), 242-266.
Naz, F., Ijaz, F., & Naqvi, F. (2016). Financial performance of firms: Evidence from Pakistan cement industry. Journal of Teaching and Education, 5(01), 81-94.
Ness, K. E., & Mirza, A. (1991). Corporate social disclosure: A note on a test of agency theory. The British Accounting Review, 23(3), 211-217.
Nishitani, K., Kaneko, S., Fujii, H., & Komatsu, S. (2011). Effects of the reduction of pollution emissions on the economic performance of firms: an empirical analysis focusing on demand and productivity. Journal of cleaner production, 19(17-18), 1956-1964.
Orlitzky, M., & Benjamin, J. D. (2001). Corporate social performance and firm risk: A meta-analytic review. Business & Society, 40(4), 369-396.
Öztürk, D., & Yılmaz, Z. (2016). The Role of Eco-Efficiency In Competitive Advantage of Businesses. Eurasian Academy of Sciences Social Sciences Journal, 1, 1-15.
Peck, P., & Sinding, K. (2003). Environmental and social disclosure and data richness in the mining industry. Business strategy and the environment, 12(3), 131-146.
Penttinen, I., & Pohjola, T. (2008). Choice of a Strategy Tool for Eco-Efficiency. Paper presented at the CRR Conference.
Popp, D. (2019). "Environmental policy and innovation: a decade of research."
Puig, M., Wooldridge, C., & Darbra, R. M. (2014). Identification and selection of environmental performance indicators for sustainable port development. Marine pollution bulletin, 81(1), 124-130.
Rahmadhani, S., & Meylani, D. (2016). Pengaruh Eco-control terhadap CSR Disclosure dan Financial Performance dengan Environmental Performance sebagai Variabel Intervening. Jurnal Dinamika Ekonomi & Bisnis, 13(1).
Rettab, B., Brik, A. B., & Mellahi, K. (2009). A study of management perceptions of the impact of corporate social responsibility on organisational performance in emerging economies: the case of Dubai. Journal of Business Ethics, 89(3), 371-390.
Russo, M. V., & Fouts, P. A. (1997). A resource-based perspective on corporate environmental performance and profitability. Academy of management journal, 40(3), 534-559.
Ryszko, A. (2016). Proactive environmental strategy, technological eco-innovation and firm performance—Case of poland. Sustainability, 8(2), 156.
Samiee, S., & Roth, K. (1992). The influence of global marketing standardization on performance. Journal of marketing, 56(2), 1-17.
Sarkis, J., & Cordeiro, J. J. (2001). An empirical evaluation of environmental efficiencies and firm performance: pollution prevention versus end-of-pipe practice. European Journal of Operational Research, 135(1), 102-113.
Schaltegger, S., & Burritt, R. (2005). Corporate Sustainability. Megjelent: Folmer, H.–Tietenberg, T.(szerk.): The International Yearbook of Environmental and Resource Economics: Edward Elgar, Cheltenham.
Schmidt, I., et al. (2004). "Managing sustainability of products and processes with the socio-eco-efficiency analysis by BASF." Greener Management International 45: 79-94.
Sharma, S., & Vredenburg, H. (1998). Proactive corporate environmental strategy and the development of competitively valuable organizational capabilities. Strategic management journal, 19(8), 729-753.
Sinkin, C., Wright, C. J., & Burnett, R. D. (2008). Eco-efficiency and firm value. Journal of accounting and public policy, 27(2), 167-176.
Sklyarova, M., & Kobets, T. (2011). Eco-efficiency for sustainability: IKEA's environmental policy in Russia.
Stefan, A., & Paul, L. (2008). Does it pay to be green? A systematic overview. Academy of management perspectives, 22(4), 45-62.
Stigson, B. (2000). Eco-efficiency: Creating more value with less impact. WBCSD, 8, 5-36.
Strike, V. M., Gao, J., & Bansal, P. (2006). Being good while being bad: Social responsibility and the international diversification of US firms. Journal of International Business Studies, 37(6), 850-862.
Ugarković, M. (2008). Profit Sharing and the Financial Performance of Firms. Profit Sharing and Company Performance, 79-83.
Walls, J. L. (2008). Assessment of the construct validity of environmental strategy measures.
Winston, W. and A. T. Mintu-Wimsatt (2013). Environmental marketing: strategies, practice, theory, and research, Routledge.
WRI, U. (1998). UNDP, and the World Bank. 1998. World Resources, 99.
Xepapadeas, A., & de Zeeuw, A. (1999). Environmental policy and competitiveness: the Porter hypothesis and the composition of capital. Journal of environmental economics and management, 37(2), 165-182.
Xie, J., Nozawa, W., Yagi, M., Fujii, H., & Managi, S. (2019). Do environmental, social, and governance activities improve corporate financial performance? Business strategy and the environment, 28(2), 286-300.
Yahaya, O. A., & Lamidi, Y. (2015). Empirical examination of the financial performance of Islamic banking in Nigeria: A case study approach. International Journal of Accounting Research, 42(2437), 1-13.
Yang, L., & Zhang, X. (2018). Assessing regional eco-efficiency from the perspective of resource, environmental and economic performance in China: A bootstrapping approach in global data envelopment analysis. Journal of cleaner production, 173, 100-111.
Yang, M. G. M., Hong, P., & Modi, S. B. (2011). Impact of lean manufacturing and environmental management on business performance: An empirical study of manufacturing firms. International Journal of Production Economics, 129(2), 251-261.
Yu, G., & Rhee, S.-Y. (2015). Effect of R&D collaboration with research organizations on innovation: The mediation effect of environmental performance. Sustainability, 7(9), 11998-12016.
Yusoff, Y. M., et al. (2020). "Linking green human resource management practices to environmental performance in hotel industry." Global Business Review 21(3): 663-680.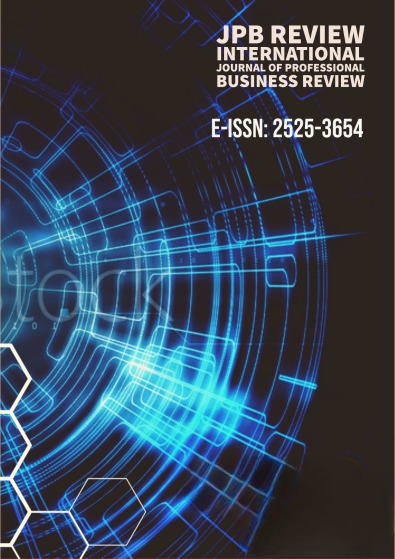 Downloads
How to Cite
Alnaim, M. M. A., Sulong, F., Salleh, Z., & Alsheikh, G. A. A. (2023). Corporate Environmental Performance as a Mediator Between Eco-Efficiency Strategy and Financial Performance in Jordanian Industrial Sectors. International Journal of Professional Business Review, 8(5), e01733. https://doi.org/10.26668/businessreview/2023.v8i5.1733
License
Copyright (c) 2023 Maher Mohammad Ahmad Alnaim, Farizah Sulong, Zalailah Salleh, Ghaith Abdulraheem Ali Alsheikh
This work is licensed under a Creative Commons Attribution-NoDerivatives 4.0 International License.
Authors who publish in this journal agree to the following terms: the author(s) authorize(s) the publication of the text in the journal;
The author(s) ensure(s) that the contribution is original and unpublished and that it is not in the process of evaluation by another journal;
The journal is not responsible for the views, ideas and concepts presented in articles, and these are the sole responsibility of the author(s);
The publishers reserve the right to make textual adjustments and adapt texts to meet with publication standards.
Authors retain copyright and grant the journal the right to first publication, with the work simultaneously licensed under the Creative Commons Atribuição NãoComercial 4.0 (http://creativecommons.org/licenses/by-nc/4.0/), which allows the work to be shared with recognized authorship and initial publication in this journal.
Authors are allowed to assume additional contracts separately, for non-exclusive distribution of the version of the work published in this journal (e.g. publish in institutional repository or as a book chapter), with recognition of authorship and initial publication in this journal.
Authors are allowed and are encouraged to publish and distribute their work online (e.g. in institutional repositories or on a personal web page) at any point before or during the editorial process, as this can generate positive effects, as well as increase the impact and citations of the published work (see the effect of Free Access) at http://opcit.eprints.org/oacitation-biblio.html