"Work Contentment" - an Enabler for Career Development-A Study With Special Reference to the Hospital Industry
Keywords:
Work Contentment, Engagement, Satisfaction, Career Development, Healthcare Industry
Abstract
Purpose: The study aims to determine the employee work contentment level, the relationship between work contentment, and the various variables among the nurses and paramedical staff engaged in the Healthcare industry.
Theoretical Framework: Work contentment in a healthy work environment is a critical factor that indirectly affects the employees' dedication and loyalty to the organization, and it improves the motivation and productivity of the employees. The undivided commitment of an employee could be well performed based on his or her high level of satisfaction at the workplace, leading to increased work output. Job security, skill and ability application opportunities, pay compensation, supervisor support, working conditions, job characteristics, relationships with coworkers, and job duties all impact job satisfaction at work, inevitably leading to increased enthusiasm and enthusiasm motivation. Based on this study, this research determines the work contentment level of the nurses and other paramedical staff working in the Health care industry.
Design/Methodology/approach: The research conducted was a descriptive cross-sectional study based on a questionnaire Method.  The study sample was selected using the Simple Random Sampling method.
Findings: The study shows that there is no discrimination between employees when it comes to their gender or their designation. There is sufficient information provided to the employees by the management. Due to this fact, the employees are content with their role in the hospital. They feel valued for their efforts and ideas. They are satisfied with the amount of work allotted to them. They clearly understand what is expected of them as they get good communication from the hospital.
Research, Practical & Social Implications: The purpose and implications of this study are also to determine if various factors such as motivation, communication, workload allotment, and participation in management decisions affect the work contentment of the health workers and recommend the government to improve the health industry. The production of the company is always higher when work satisfaction rises. People typically work more when their bosses have faith in them and give them recognition and rewards, which increases their passion and motivation.
Originality / Value: Researchers studied this research to check the work contentment level among the nurses and other paramedical workers in the Health care sector and the various factors that affect work contentment which still needs to be evaluated. It added value in the healthcare sector to mitigate their issues and career development.
Downloads
Download data is not yet available.
References
Abdulrahman,et al.:(2012). Employees' Contentment in anOrganization.Procedia-Social andBehavioralSciences.40.604–608.10.1016/j.sbspro.2012.03.237.
Al jenaibi, Badreya. (2010). Job Satisfaction: Comparisons Among DiversePublicOrganizationsinthe UAE.ManagementScienceand Engineering.4.
Begley, T. M. & Czajka, J. M. Job Satisfaction: Organizational commitment;Labor-turnover; Employee's Health and Hygiene; Job-stress. Journal ofAppliedPsychology, 78, 1999, 552-556.
Fitriana, Nina et al.:2022).Happiness at work: A cross-cultural validation of happiness at workscale.PLOS ONE. 17. e0261617. 10.1371/journal.pone.0261617.
Halawi, Ali &Zaraket, Wael. (2017). An Overview of Work Contentment: Asocial Analysis Of Lebanese and US Workers. European Scientific Journal.
Hong Lu, Alison E. While, K. Louise Barriball (2007). Job satisfaction and its related Factors: A questionnaire survey of hospital nurses in Mainland China.InternationalJournal ofNursing Studies 44 (2007)574–588.
Saxena,Manisha.(2020).JOBSATISFACTIONandEMPLOYEELOYALTY.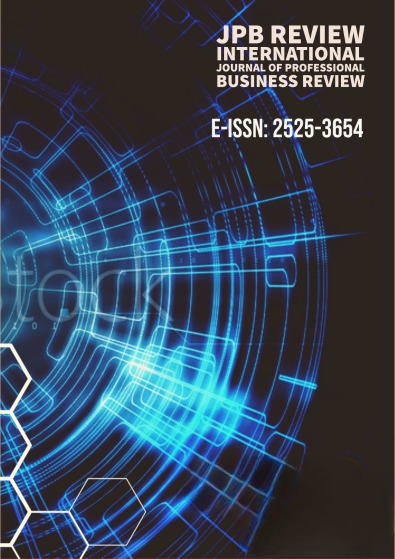 Downloads
How to Cite
Prabadevi, M., & Subramanian, K. P. (2023). "Work Contentment" - an Enabler for Career Development-A Study With Special Reference to the Hospital Industry. International Journal of Professional Business Review, 8(5), e01738. https://doi.org/10.26668/businessreview/2023.v8i5.1738
License
Copyright (c) 2023 M.N. Prabadevi, Kabaly P. Subramanian
This work is licensed under a Creative Commons Attribution-NoDerivatives 4.0 International License.
Authors who publish in this journal agree to the following terms: the author(s) authorize(s) the publication of the text in the journal;
The author(s) ensure(s) that the contribution is original and unpublished and that it is not in the process of evaluation by another journal;
The journal is not responsible for the views, ideas and concepts presented in articles, and these are the sole responsibility of the author(s);
The publishers reserve the right to make textual adjustments and adapt texts to meet with publication standards.
Authors retain copyright and grant the journal the right to first publication, with the work simultaneously licensed under the Creative Commons Atribuição NãoComercial 4.0 (http://creativecommons.org/licenses/by-nc/4.0/), which allows the work to be shared with recognized authorship and initial publication in this journal.
Authors are allowed to assume additional contracts separately, for non-exclusive distribution of the version of the work published in this journal (e.g. publish in institutional repository or as a book chapter), with recognition of authorship and initial publication in this journal.
Authors are allowed and are encouraged to publish and distribute their work online (e.g. in institutional repositories or on a personal web page) at any point before or during the editorial process, as this can generate positive effects, as well as increase the impact and citations of the published work (see the effect of Free Access) at http://opcit.eprints.org/oacitation-biblio.html