How should intellectual capital development? An islamic religious perspective
Keywords:
Intellectual Capital, Reconstruction, Islamic Spiritual
Abstract
Purpose: The objective of this study was to reconstruct Intellectual Capital to fill gap between Humans, Corporations and God.
Theoretical framework:  Intellectual Capital in its form and development as part of intangible assets in the business world, both from commercial and non-commercial measurements, is part of accounting, considered a modern business perspective and a product of entity theory. This definition of Intellectual Capital shows the masculine side, the Value of Entity theory. The antithesis of this is Sharia  Entity  Theory which emphasizes responsibility toward the sole creator of the company's nature, specifically God. Spirituality or religion fills the gap behind critical accounting studies based on secular thinking.
Design/methodology/approach: This research uses the Islamic spirituality perspective paradigm, which is at heart and related to the organizational, social, and human environment in reconstructing Intellectual Capital.
Findings:  The results of this study obtained that the construction of human Capital is positioning employees to have honesty, trustworthiness, ridho, demanding knowledge, shodaqoh, zakat, and ukhuwah Islamiyah. Second,  structural Capital is a blessed business, not arbitrary to employees, welfare, business commitment to trustworthiness, sadaqah for business, the principle of ridho in the organization, and giving employee rights. Third, customer capital is a promise, doing good/service, honesty to customers, responsibility, ukhuwah Islamiyah, sadaqah for CSR, trustworthiness, and setting prices like for like.
Research, Practical & Social implications:  First, management in developing the company can change the company's philosophy through intellectual capital which is based on God's will. Second, it is important to treat human resources, organizational structure and relational capital by aligning the soul, nature and God as a manifestation of added value.
Originality/value:  An important finding in this research is that spirituality is the most important thing in positive change for the world in which we live. Intellectual Capital in creating value should be the result of human work that is blessed by God.
Downloads
Download data is not yet available.
References
Al-Awary, A. (2021). Religiosity without knowledge is religiosity that needs treatment. Https://Www.Elbalad.News/4968411 .
Al-Ghazali. (1983). Ahlak seorang muslim. CV. Adi grafika.
Aryanto, I. (2017). Implementation of Islamic Spiritual Care Guidance to Meet the Spiritual Needs of Patients. Jurnal Bimbingan, Penyuluhan, Konseling Dan Psikoterapi Islam , 5(3), 241–260.
Barney, J. B., & Hesterly, W. S. (2015). Strategic management and competitive advantage: Concepts and cases. Person/Prentice Hall.
Berger, P. L., & Hefner, R. W. (2003). Spiritual capital in comparative perspective. The Spiritual Capital Planning Meeting.
Bontis, N., William, C., & Stanley, R. (2000). Intellectual Capital and Business Performance in Malaysian Industries. Journal of Intellectual Capital, 1(1), 85–100.
Edvinsson, L., & Malone, M. (1997). Intellectual Capital. Harper Business.
Ellison, C. W. (2000). Spiritual Well Being: Conceptualization and Measurement. Journal of Psychology and Theology.
Febriani, R., Hasanah, S. N., Roz, K., & Hakim, A. R. (2023). The Impact Of Workplace Spirituality, Work-Family Conflict, And Loneliness In Work On Intention To Stay: Case Study On Women Employees In Indonesia. International Journal of Professional Business Review, 8(4), 01–16.
Fry, L. (2003). Toward a Theory of Spiritual Leadership. In The Leadership Quarterly.
Hariyadi, B. (2020). Building Civilization Through the Principle of Shari'a Equality. Journal of Islamic Law Studies, 7(2).
Hashim, M. J., Idris, O., & Alhabshi, S. M. (2015). Effect of Intellectual Capital on Organizational Performance. Social and Behavioral Sciences, 207–214.
Ismail, M. Bin. (2005). The influence of intellectual capital on the performance of telekom malaysia. [Dissertation]. Universiti Teknologi Malaysia.
Khalique, M., Bontis, N., Abdul Nassir bin Shaari, & Hassan Md. Isa, A. (2015). Intellectual capital in small and medium enterprises in Pakistan. Journal of Intellectual Capital, 16(1).
Kozak, M. (2011). Strategic Approach to Intellectual Capital Development in Regions. International Journal of Learning and Intellectual Capital, 8.
Kriger, M., & Seng, Y. (2005). ). Leadership with inner meaning: A contingency theory of leadership based on the worldviews of five religions. The Leadership Quarterly, 16(5).
Kujansivu, P. (2009). Is there something wrong with intellectual capital management models. Knowledge Management Research & Practice, 7.
Liu, A. (2008). Measuring Spiritual Capital as a Latent Variable Defining Spiritual Capital as Religion Capital. Http://Www.Researchmethods.Org/4capital.Htm.
Liu, C.-H. (2017). The relationships among intellectual capital, social capital, and performance - The moderating role of business ties and environmental uncertainty. Tourism Management, 61.
Lucas J. (2009). Learning Native Wisdom: What Traditional Cultures Teach us About Subsistence, Sustainability, and Spirituality. Journal Agric Environ Ethics, 22.
Malloch, T. R. (2010). Spiritual capital and practical wisdom. Journal of Management Development, 29(7).
McPhail, K. (2011). A review of the emergence of post-secular critical accounting and a provocation from radical orthodoxy . Perspectives on Accounting., 22(5).
Mitroff, I., Denton, E., & Alpaslan, C. (2009). A spiritual audit of corporate America: Ten years later (spirituality and attachment theory, an interim report). Journal of Management. Spirituality and Religion.
Mulawarman, A. D. (2011). Sharia Accounting Theory, Concept and Financial Statements. Bani Hasim Press.
Nasrullah, A., & Pohan, E. (2020). Intellectual Capital and Spiritual Capital on Business Performance in Manufacturing Companies in Banten. Jurnal Riset Akuntansi Tirtayasa, 5.
Pöyhönen, A., & Anssi, S. (2004). Assessing Intellectual Capital Creation in Regional Clusters. Journal Of Intellectual Capital, 5(3), 351–365.
Qardhawi, Y. (2016). Islamic Economic Norms and Ethics. Gema Insani.
Roos, J., Roos, G., Edvinsson, L., & Dragonetti, N. C. (1998). Intellectual Capital: Navigating the new business landscape. New York University Press.
Saad, S. M., & Yaaqoob, I. I. (2022). Building A Corporate Social Responsibility Indicator In View Of The Covid-19 Pandemic Based On Selected International Experiences. International Journal of Professional Business Review, 7(5), 01–20.
Soegiarto, D. (2020). Islamic Intellectual Capital in the Creative Industry in Kudus with the Gusjigang Approach [Dissertation]. Sebelas Maret University.
Stewart, T. A. (1997). Intellectual Capital: The New Wealth of Organizations. Doubleday/Currency.
Sveiby, K. E. (1997). The New Organizational Wealth: Managing and Measuring Knowledge-Based Assets. Barrett-Koehler Publishers.
Tan, H. P., David, P., & Phil, H. (2007). Intellectual Capital and financial returns of companies. Journal of Intellectual Capital , 8(1).
Triyuwono, I. (2012). Sharia Accounting Perspectives, Methodology, and Theory. PT Raja Grafindo Persada.
Triyuwono, I. (2017). Akuntansi Syariah Persfektif, Metodologi, Dan Teori (2nd–3rd ed.). Rajawali Pers.
Triyuwono, I. (2019). So, what is sharia accounting?. Imanensi: Jurnal Ekonomi, Manajemen Dan Akuntansi Islam, 1, 42–50.
William S Chang, & Jasper Hsieh. (2011). Exploring a human capital driven intellectual capital framework: evidence from information technology industry in Taiwan. European Journal of Social Sciences, 21(3).
Zhou, J., San, O. T., & Liu, Y. (2023). Design And Implementation Of Enterprise Financial Decision Supposystem Based On Business Intelligence. International Journal of Professional Business Review, 8(4).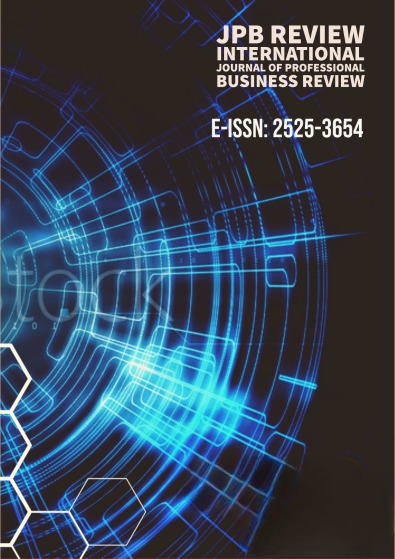 Downloads
How to Cite
Prakoso, A., Triyuwono, I., Purwanti, L., & Roekhudin, R. (2023). How should intellectual capital development? An islamic religious perspective. International Journal of Professional Business Review, 8(5), e01819. https://doi.org/10.26668/businessreview/2023.v8i5.1819
License
Copyright (c) 2023 Aryo Prakoso, Iwan Triyuwono, Lilik Purwanti, Roekhudin Roekhudin
This work is licensed under a Creative Commons Attribution-NoDerivatives 4.0 International License.
Authors who publish in this journal agree to the following terms: the author(s) authorize(s) the publication of the text in the journal;
The author(s) ensure(s) that the contribution is original and unpublished and that it is not in the process of evaluation by another journal;
The journal is not responsible for the views, ideas and concepts presented in articles, and these are the sole responsibility of the author(s);
The publishers reserve the right to make textual adjustments and adapt texts to meet with publication standards.
Authors retain copyright and grant the journal the right to first publication, with the work simultaneously licensed under the Creative Commons Atribuição NãoComercial 4.0 (http://creativecommons.org/licenses/by-nc/4.0/), which allows the work to be shared with recognized authorship and initial publication in this journal.
Authors are allowed to assume additional contracts separately, for non-exclusive distribution of the version of the work published in this journal (e.g. publish in institutional repository or as a book chapter), with recognition of authorship and initial publication in this journal.
Authors are allowed and are encouraged to publish and distribute their work online (e.g. in institutional repositories or on a personal web page) at any point before or during the editorial process, as this can generate positive effects, as well as increase the impact and citations of the published work (see the effect of Free Access) at http://opcit.eprints.org/oacitation-biblio.html