We are Team: Effectiveness of Team Building Training to Improve Cohesiveness
Keywords:
Team Building, Cohesiveness, Training
Abstract
Purpose:  This study aims to determine the effectiveness of the influence of team building training to increase cohesiveness in Psychology students at Mulawarman University.
Theoretical framework:  Cohesiveness is one part that can increase the sense of attachment between individuals as members and the team and organization that oversees them.  Team building training is carried out so that members of student organizations can have an interest in wanting to continue to be with the organization in achieving common goals as a whole team
Design/methodology/approach: The research design used was a pre-test and post-test on 20 students divided into 10 experimental groups and 10 control groups. Cohesiveness scale adapted by researchers from Data analysis using Wilcoxon and Mann-Whitney U Test using SPSS 26 Software for Windows.
Findings: The results of the analysis used the Wilcoxon test which compared the cohesiveness scores in the experimental group before and after training showed a value of Z = -2.810, = p 0.005 (p < 0.05) meaning that there was a difference in the cohesiveness scores before and after being given the team building training treatment, so that there was an increase in cohesiveness significantly after giving the team building training treatment. The results of the analysis using the Mann-Whitney U Test showed a value of Z = -1.288, p = 0.198 (p > 0.05) meaning that there was no difference in the level of cohesiveness between the experimental group that was given the team building treatment and the control group that was not given the team building training treatment.
Research, Practical & Social implications: The study is useful for organizational activities are also expected to continue to make their best contribution to the organization and the wider community.
Originality/value: The value of the study based on the analytical data discussed in the previous sub-chapter, it can be concluded that team building training is able to provide changes and increase cohesiveness in organizational students. That is, if training is given to students of the organization regularly and followed by consistent supervision and evaluation, then cohesiveness in the student organization can increase.
Downloads
Download data is not yet available.
References
Abdillah, R., & Ardiyansyah, A. Y. (2019). Kohesivitas Kelompok Dengan Komitmen Organisasi Anggota Unit Kegiatan Mahasiswa. JURNAL SPIRITS, 9(2). https://doi.org/10.30738/spirits.v9i2.6325
Albiy, R., Suhardi, M., Rusdinal, R., & ... (2021). Kepemimpinan Buya Marwan Alwi Tuangku Lubuak Ameh, Pengembangan Organisasi, Team Building dan Prilaku Inovatif. Edukatif: Jurnal Ilmu …, 3(5).
Amin, G. (2019). ACADEMIC PROCRASTINATION OF COLLEGE STUDENTS. Jurnal Muara Ilmu Ekonomi Dan Bisnis, 3(2). https://doi.org/10.24912/jmieb.v3i2.7346
Ardian, M. G., Sanusi, A. R., & Repelita, T. (2021). Peran organisasi kemahasiswaan dalam menumbuhkan nilai-nilai karakter peduli sosial mahasiswa. Jurnal Citizenship: Media Publikasi Pendidikan Pancasila Dan Kewarganegaraan, 4(2). https://doi.org/10.12928/citizenship.v4i2.18221
Bone, F., Hopkins, M. M., Ràfols, I., Molas-Gallart, J., Tang, P., Davey, G., & Carr, A. M. (2020). DARE to be different? A novel approach for analysing diversity in collaborative research projects. Research Evaluation, 29(3). https://doi.org/10.1093/reseval/rvaa006
Bravo, R., Catalán, S., & Pina, J. M. (2019). Analysing teamwork in higher education: An empirical study on the antecedents and consequences of team cohesiveness. Studies in Higher Education, 44(7), 1153–1165.
Bruner, M. W., Eys, M., Carreau, J. M., McLaren, C., & van Woezik, R. (2020). Using the Team Environment AssessMent (TEAM) to enhance team building in sport. The Sport Psychologist, 34(1), 62–70.
Carron, A. v., & Spink, K. S. (2016). Team Building in an Exercise Setting. The Sport Psychologist, 7(1). https://doi.org/10.1123/tsp.7.1.8
Dian Triana. (2017). Kepemimpinan: Pengembangan Organisasi, Team Building dan Individual Building (Studi Kasus di MI Babussalam Tambar Jogoroto Jombang). Sumbula: Jurnal Studi Keagamaan, Sosial Dan Budaya, 2(1).
Dwiatmadja, C., & Yuniawan, A. (2019). The Mediating Effect of Commitment Team Goals and Team Solidarity Capital in the Team Cohesiveness toward Team Performance: At Book Publishing Company in Central Java and Special Region of Yogyakarta, Indonesia. Quality-Access to Success, 20(168).
Dwiyanto, A., & Amalia, P. (2012). Hubungan Antara Kohesivitas Kelompok dengan Komitmen Organisasi pada Karyawan PT NA Pekalongan. Prosiding Seminar Nasional Psikologi Islam.
Estherina, Y., & Puspitarini, E. S. (2019). Pengaruh Dari Identifikasi Organisasi Terhadap Keterikatan Kerja Karyawan : Studi Kasus Pada Dosen Di Univeristas Patron. Civil Service, 13(2).
Ganotice, F. A., Chan, L., Shen, X., Lam, A. H. Y., Wong, G. H. Y., Liu, R. K. W., & Tipoe, G. L. (2022). Team cohesiveness and collective efficacy explain outcomes in interprofessional education. BMC Medical Education, 22(1), 1–9.
Hanggardewa, A. A. (2018). Hubungan Kohesivitas Kelompok dengan Komitmen Organisasi Pada Anggota Organisasi Mahasiswa Universitas Negeri Surabaya Periode 2017. Jurnal Penelitian Psikologi, 5(3).
Hidayati, R. M., & Wagiran, W. (2020). Implementation of problem-based learning to improve problem-solving skills in vocational high school. Jurnal Pendidikan Vokasi, 10(2), 177–187.
Idauli, A. R., Fitri, E., & Supriyono, S. (2021). PERANAN ORGANISASI KEMAHASISWAAN TERHADAP PERKEMBANGAN KETERAMPILAN NON TEKNIS MAHASISWA UNIVERSITAS PENDIDIKAN INDONESIA. Academy of Education Journal, 12(2). https://doi.org/10.47200/aoej.v12i2.696
Iskandar, J., & Syueb, S. (2018). Pengaruh Komunikasi Interpersonal dan Komunikasi Kelompok terhadap Kohesivitas Kelompok pada Supporter Persebaya Korwil Suramadu. Jurnal ULTIMA Comm, 9(2). https://doi.org/10.31937/ultimacomm.v9i2.812
Jovanka Sirait, A., & Siahaan, C. (2020). Peran Organisasi dalam Pembentukan Karakter Mahasiswa. Action Research Literate, 4(2). https://doi.org/10.46799/arl.v4i2.7
Kosasih, K. (2017). PERANAN ORGANISASI KEMAHASISWAAN DALAM PENGEMBANGAN CIVIC SKILLS MAHASISWA. JURNAL PENDIDIKAN ILMU SOSIAL, 25(2). https://doi.org/10.17509/jpis.v25i2.6196
Kusdyantoro, D., Syakdanur, S., & Junus, N. (2019). KONTRIBUSI KOHESIVITAS KELOMPOK DAN KOMUNIKASI INTERPERSONAL TERHADAP KOMITMEN ORGANISASI GURU SMA NEGERI DI KECAMATAN BAGAN SINEMBAH KABUPATEN ROKAN HILIR. Jurnal JUMPED (Jurnal Manajemen Pendidikan), 7(1). https://doi.org/10.31258/jmp.7.1.p.26-36
Loughead, T. M., Boisvert, M. M., & Hirsch, K. E. (2020). Coaching Cohesive Teams. In Coaching for Human Development and Performance in Sports (pp. 321–339). Springer.
Lukitasari, Y. E. (2020). Hubungan Antara Komitmen Organisasi Dengan Kohesivitas Kelompok. Psikoborneo: Jurnal Ilmiah Psikologi, 8(1). https://doi.org/10.30872/psikoborneo.v8i1.4859
Lvina, E., Johns, G., & Vandenberghe, C. (2018). Team Political Skill Composition as a Determinant of Team Cohesiveness and Performance. Journal of Management, 44(3). https://doi.org/10.1177/0149206315598371
Maliani, A. (2021). Strategi Peningkatan Performa Pengelola Pelatihan Pada Pusat Pengembangan Sumber Daya Manusia Aparatur. JURNAL APARATUR, 3(2). https://doi.org/10.52596/ja.v3i2.26
Malik, A. (2017). Pengaruh kohesivitas kelompok terhadap kinerja karyawan pada pt. kerta rajasa raya kabupaten sidoarjo. Jurnal Ilmu Manajaemen, 5.
Manjula, P. S., & Aggarwal, V. (2015). Predictors of Team Satisfaction. Annamalai International Journal of Business Studies & Research.
Marasi, S. (2019). Team-building: Developing teamwork skills in college students using experiential activities in a classroom setting. Organization Management Journal, 16(4), 324–337.
Mobolade, G. O., & Akinade, M. E. (2021). TEAM BUILDING AND TEAMWORK IN ORGANIZATIONS: IMPLICATIONS TO MANAGERS AND EMPLOYEES IN WORK PLACES. INTERNATIONAL JOURNAL OF MANAGEMENT, SOCIAL SCIENCES, PEACE AND CONFLICT STUDIES, 4(1).
Nababan, J. (2022). Kohesivitas Kelompok pada Koperasi di Kabupaten Tapanuli Utara. MUKASI: Jurnal Ilmu Komunikasi, 1(1), 39–54.
Precilia, N. P. E., & Mimba, N. P. S. H. (2020). Pengaruh Partisipasi Anggaran, Kejelasan Sasaran Anggaran dan Kohesivitas Kelompok terhadap Senjangan Anggaran. E-Jurnal Akuntansi, 30(9), 2381–2391.
Priyotomo, P., Setyowati, R., & Suharnomo, S. (2019). The role of team building training on team cohesiveness and organizational commitment in an international manufacturer in central Java. Quality - Access to Success, 20(172).
Purwaningtyastuti, P., & Savitri, A. D. (2020). KOHESIVITAS KELOMPOK DITINJAU DARI INTERAKSI SOSIAL DAN JENIS KELAMIN PADA ANAK-ANAK PANTI ASUHAN. PHILANTHROPY: Journal of Psychology, 4(2). https://doi.org/10.26623/philanthropy.v4i2.2616
Purwaningtyastuti, Wismanto, B., & Suharsono, M. (2018). Kohesivitas Kelompok Ditinjau dari Komitmen terhadap Organisasi dan Kelompok Pekerjaan. Prediksi, 1(2).
Qomaria, N., Musadieq, M., & Susilo, H. (2015). Peranan kohesivitas kelompok untuk menciptakan lingkungan kerja yang kondusif (studi pada PT. Panca Mitra Multi Perdana Situbondo). Brawijaya University.
Riisla, K., Wendt, H., Babalola, M. T., & Euwema, M. (2021). Building cohesive teams—the role of leaders' bottom-line mentality and behavior. Sustainability (Switzerland), 13(14). https://doi.org/10.3390/su13148047
Sabbir, S. (2021). The Role of Independent Self-Construal in Building Cohesiveness among Employees in Deleterious situation. Journal of Workplace Behavior, 2(1), 5–29.
Setianingtyas, A. F., & Darokah, M. (2013). Pengaruh pelatihan team building untuk meningkatkan kohesivitas tim kerja di Inna Garuda Yogyakarta. Jurnal Fakultas Psikologi, 3(1), 1–30.
Sidiq, W., & Abdullah, S. M. (2020). Effectiveness of Team Building Training Improving The Cohesiveness of The Working Group. Psikostudia Jurnal Psikologi, 11(1), 89–99.
Spink, K. S., & Carron, A. v. (2016). The Effects of Team Building on the Adherence Patterns of Female Exercise Participants. Journal of Sport and Exercise Psychology, 15(1). https://doi.org/10.1123/jsep.15.1.39
Stoica, M., Florea, L., & Gonsalez, A. (2020). Innovation in Virtual Team Business Education: Ways to Increase Trust and Cohesiveness. Business Education Innovation Journal, 12(2).
Sugiyono. (2017). Metode penelitian kuantitatif kualitatif dan r & d. Alfabet.
Suprapto, M. H., & Verdyana, E. (2020). UNITY IN THE WORKPLACE: THE EFFECTIVENESS OF TEAMWORK TRAINING. Review of Behavioral Aspect in Organizations and Society, 2(1), 15–24.
Surjawati, S., & Lestari, D. I. T. (2020). THE EXPERIMENTAL STUDY IN THE CLASSROOM FOR THE ESTABLISHMENT OF THE ACCOUNTING STUDENTS'SOFT SKILL THROUGH EFFECTIVE TEAM BUILDING. International Journal of Economics, Business and Accounting Research (IJEBAR), 4(03).
Susanti. (2020). Peran Organisasi Kemahasiswaan Dalam Pembentukan Karakter Mahasiswa. AL-MUNAWWARAH : Jurnal Pendidikan Islam, 12(2).
Vilayanti, L. P. E., & Supriyadi, D. (2018). HUBUNGAN ANTARA RASA KOMUNITAS DAN KOMITMEN ORGANISASI DENGAN KOHESIVITAS KELOMPOK PADA ANGGOTA SEKAA TERUNA-TERUNI DI BADUNG. Jurnal Psikologi Udayana, 5(01). https://doi.org/10.24843/jpu.2018.v05.i01.p15
Widiantoro, D., & Herawati, I. (2020). KOHESIVITAS KELOMPOK DITINJAU DARI KEPEMIMPINAN KARYAWAN UNIVERSITAS ISLAM RIAU. MOTIVA JURNAL PSIKOLOGI, 2(2). https://doi.org/10.31293/mv.v2i2.4438
Yoandra, R. M., Putri, Z. A., Hanum, F., & Humaedi, S. (2022). PENTINGNYA TINGKAT KOHESIVITAS TERHADAP KINERJA KELOMPOK FORUM KOMUNIKASI MAHASISWA KESEJAHTERAAN SOSIAL REGIONAL JAWA BARAT. Focus: Jurnal Pekerjaan Sosial, 5(1), 106–115.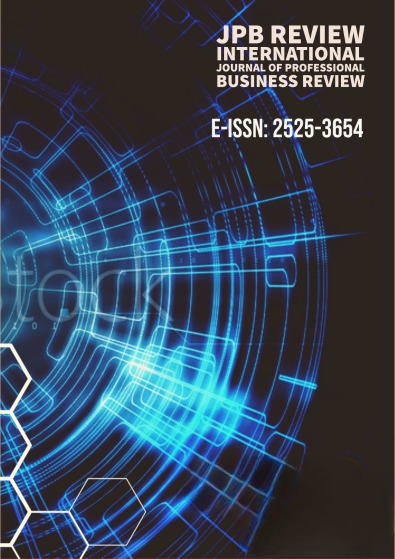 Downloads
How to Cite
Adriansyah, M. A., Prastika, N. D., & Muhliansyah. (2023). We are Team: Effectiveness of Team Building Training to Improve Cohesiveness. International Journal of Professional Business Review, 8(5), e01898. https://doi.org/10.26668/businessreview/2023.v8i5.1898
License
Copyright (c) 2023 Muhammad Ali Adriansyah, Netty Dyan Prastika, Muhliansyah
This work is licensed under a Creative Commons Attribution-NoDerivatives 4.0 International License.
Authors who publish in this journal agree to the following terms: the author(s) authorize(s) the publication of the text in the journal;
The author(s) ensure(s) that the contribution is original and unpublished and that it is not in the process of evaluation by another journal;
The journal is not responsible for the views, ideas and concepts presented in articles, and these are the sole responsibility of the author(s);
The publishers reserve the right to make textual adjustments and adapt texts to meet with publication standards.
Authors retain copyright and grant the journal the right to first publication, with the work simultaneously licensed under the Creative Commons Atribuição NãoComercial 4.0 (http://creativecommons.org/licenses/by-nc/4.0/), which allows the work to be shared with recognized authorship and initial publication in this journal.
Authors are allowed to assume additional contracts separately, for non-exclusive distribution of the version of the work published in this journal (e.g. publish in institutional repository or as a book chapter), with recognition of authorship and initial publication in this journal.
Authors are allowed and are encouraged to publish and distribute their work online (e.g. in institutional repositories or on a personal web page) at any point before or during the editorial process, as this can generate positive effects, as well as increase the impact and citations of the published work (see the effect of Free Access) at http://opcit.eprints.org/oacitation-biblio.html