Understanding Auditor-Auditee Relationship: Some Cultural Considerations
Keywords:
Auditor_Auditee, Relationship, Trust, Cultural Dimension, Personal, Professional Relationship
Abstract
Purpose:  The purpose of this study is to analyse other types of relationship developed between auditor and auditee. The study tries to explore kinds of auditor and auditee working relationship appeared in an audit process.
Theoretical framework: Research have shown that the AAR is more than just about good knowledge that should be acquired by auditors regarding their clients' industry or how long auditors have served a client. It is also about auditors' performance in audit tasks and in interaction with clients, or how to develop a better understanding of clients. However, that kind of relationship has not been explore enough as study on AAR most focus on professional relationship
Design/methodology/approach:  This study applied a qualitative approach. The interview method, in semi-structured form, was conducted to collect data. The semi-structured interview posed the same questions to all interviewees.  This research involved 12 interviewees which consist of three different audit market participants in Indonesia: auditors, auditee, and users of financial statements. These participants (auditee and users of financial statements) were identified and selected from the IDX website, while participants for the auditor group were identified from BAPEPAM-LK database. Results were analysed by using NVivo software.
Findings:   Key findings derived from the qualitative study confirmed that some cultural values appear in participants'answers. The most common cultural values found in the interview text were: harmony; relationship prevails over task; and warm relationships are important. Indonesians interpreted the auditor-auditee relationship as a peers' relationship: a relationship that consists of a professional/personal relationship and trust.
Research, Practical & Social implications:   This research nhances knowledge of the influence of cultural values on the relationship.  In this type of society, individuals perceive social situations, including business relationships, in terms of close personal bonds. The personal relationship should be established first before any business can be done.  service providers who are able to show warmth to customers can build trust with them. Moreover, a high-social-interaction context provides an environment in which social interaction and relationship-building activities are a primary goal.
Originality/value:  This research provides a more refined understanding of auditor-auditee relationship. Given ongoing globalisation and the fact that audits are performed by auditors from a multitude of nations, it is important that AAR research captures perspectives from different cultural backgrounds.
Downloads
Download data is not yet available.
References
Al-Ajmi, J. (2009). Audit firm, corporate governance, and audit quality: Evidence from Bahrain. Advances in Accounting, 25(1), 64-74.
Al Sabti, A. A. A., & Anssari, M. A. A. (2022). The Relationship Between the Reputation of Audit Offices and the Accuracy of the Opinion on Continuity and the Extent to Which it is Affected by the Financial Failure Field Research in the Iraqi Stock Exchange. International Journal of Professional Business Review, 7(2), e0425-e0425.
Andiola, L. M., Downey, D. H., & Westermann, K. D. (2020). Examining climate and culture in audit firms: Insights, practice implications, and future research directions. Auditing: A Journal of Practice & Theory, 39(4), 1-29.
Bonner, S. E., & Lewis, B. L. (1990). Determinants of auditor expertise. Journal of Accounting Research, 1-20.
Buntara, A. A., & Adhariani, D. (2019). Audit tenure and audit quality: The renewal sense of comfort?. Australasian Accounting, Business and Finance Journal, 13(4), 46-62.
Carey, P., & Simnett, R. (2006). Audit Partner Tenure and Audit Quality. Accounting Review, 81(3), 653.
Carlisle, M., Gimbar, C., & Jenkins, J. G. (2023). Auditor-Client Interactions—An Exploration of Power Dynamics during Audit Evidence Collection. Auditing: A Journal of Practice & Theory, 42(1), 27-51.
Casterella, J. R., & Johnston, D. (2013). Can the academic literature contribute to the debate over mandatory audit firm rotation? Research in Accounting Regulation, 25(1), 108-116.
Catanach, A. H., & Walker, P. L. (1999). The international debate over mandatory auditor rotation: a conceptual research framework. Journal of International Accounting, Auditing and Taxation, 8(1), 43-66.
Cavaliere, L. P. L., Rakesh, D. S. K., Muda, I., Polisetty, A., Swadia, B. U., Rajest, S. S., & Regin, R. (2021). The Determinants of Audit Quality and Impact on Overall Audit Performance. Nveo-Natural Volatiles & Essential Oils Journal| NVEO, 12963-12984.
Chi, W., Lisic, L. L., & Pevzner, M. (2011). Is enhanced audit quality associated with greater real earnings management? Accounting Horizons, 25(2), 315-335.
Creswell, J. W. (2009). Research Design: Qualitative, Quantitative, and Mixed Methods Approaches (Third ed.): SAGE Publication, Inc.
Davis, L. R., Soo, B. S., & Trompeter, G. M. (2009). Auditor Tenure and the Ability to Meet or Beat Earnings Forecasts*. Contemporary Accounting Research, 26(2), 517-548.
Dawson, R. (2000). Developing knowledge-based client relationships: The future of professional services: Routledge.
De Lange, P., Jackling, B., & Basioudis, I. G. (2013). A framework of best practice of continuing professional development for the accounting profession. Accounting Education, 22(5), 494-497.
Doney, P. M., Cannon, J. P., & Mullen, M. R. (1998). Understanding the influence of national culture on the development of trust. Academy of Management review, 23(3), 601-620.
Duff, A. (2004). AuditQual: Dimensions of Audit Quality: The Institute of Chartered Accountants of Scotland, CA House, 21 Haymarket Yards, Edinburg EH12 5BH.
Duff, A. (2009). Measuring audit quality in an era of change: An empirical investigation of UK audit market stakeholders in 2002 and 2005. Managerial Auditing Journal, 24(5), 400-422.
Flint, D. (1988). Philosophy and Principles of Auditing: an Introduction: Basingstoke: Macmillan Education.
Garcia‐Blandon, J., Argilés‐Bosch, J. M., & Ravenda, D. (2020). Audit firm tenure and audit quality: A cross‐European study. Journal of International Financial Management & Accounting, 31(1), 35-64.
Haeruddin, M. I. M., Mpehle, Z., Muhibah, M., Dipoatmodjo, T. S., & Natsir, U. D. (2022). I Can't Get No Satisfaction: Exploring Indonesian Guests'satisfaction And Service Quality In South African Hotels. Geo Journal of Tourism and Geosites, 42, 647-656.
Hofstede, G. (1980). Culture and Organizations. International Studies of Management & Organization, 10(4), 15-41.
Hofstede, G. (1984). Cultural dimensions in management and planning. Asia Pacific Journal of Management, 1(2), 81-99.
Hofstede, G. (1991). Cultures and Organizations: Software of the Mind. London: McGraw-Hill.
Hofstede, G. (1994). Cultures and Organizations: Software of the Mind Intercultural Cooperation and its Importance for Survival: HarperCollins Publishers.
Hofstede, G. (2011). Dimensionalizing cultures: The Hofstede model in context. Online readings in psychology and culture, 2(1), 2307-0919.
Hofstede, G. H., & Hofstede, G. J. (2005). Cultures and Organizations: Software of the Mind (2nd ed.). New York: McGraw-Hill.
Hsieh, H.-F., & Shannon, S. E. (2005). Three approaches to qualitative content analysis. Qualitative health research, 15(9), 1277-1288.
Hubais, A. S. A., Kadir, M. R. A., Bilal, Z. O., & Alam, M. N. (2023). The Impact of Auditor Integrity to Audit Quality: an Exploratory Studies from the Middle East. International Journal of Professional Business Review, 8(1), e01254-e01254.
Indrijawati, A., & Bandang, A. (2023). Effect of Competence, Whistleblower, and Probity Audit on. International Journal of Professional Business Review, 8(4), e01525-e01525.
Johnson, V. E., Khurana, I. K., & Reynolds, J. K. (2002). Audit-Firm Tenure and the Quality of Financial Reports. Contemporary Accounting Research, 19(4), 637-660.
Knechel, W. R., Thomas, E., & Driskill, M. (2020). Understanding financial auditing from a service perspective. Accounting, Organizations and Society, 81, 101080.
Kopp, L., Lemon, W. M., & Rennie, M. (2003). A Model of Trust and Professional Skepticism in the Auditor-Client Relationship. Paper presented at the Presentation, Scholl of Accountancy Seminar Series.
Koveshnikov, A., Ehrnrooth, M., & Wechtler, H. (2023). Authoritarian and benevolent leadership: the role of follower homophily, power distance orientation and employability. Personnel Review, 52(1), 218-235.
Kuzel, A. J. (1992). Sampling in qualitative inquiry.
Lin, K. Z., & Fraser, I. A. M. (2008). Auditors' Ability to Resist Client Pressure and Culture: Perceptions in China and the United Kingdom. Journal of International Financial Management & Accounting, 19(2), 161-183.
Mann, R. I. (1996). The Culture of Business in Indonesia: Gateway Books.
Morse, J. M. (1994). Designing funded qualitative research. In N. K. Denzin & Y. S. Lincoln (Eds.), Handbook of qualitative research. (pp. 220-235). Thousand Oaks, CA, US: Sage Publications, Inc.
Mustikarini, A., & Adhariani, D. (2022). In auditor we trust: 44 years of research on the auditor-client relationship and future research directions. Meditari Accountancy Research, 30(2), 267-292. doi:10.1108/MEDAR-11-2020-1062
Nguyen, L. A., & Kend, M. (2021). The perceived impact of the KAM reforms on audit reports, audit quality and auditor work practices: stakeholders' perspectives. Managerial Auditing Journal, 36(3), 437-462.
Ozdemir, V. E., & Hewett, K. (2010). The effect of collectivism on the importance of relationship quality and service quality for behavioral intentions: a cross-national and cross-contextual analysis. Journal of International Marketing, 18(1), 41-62.
Rennie, M. D., Kopp, L. S., & Lemon, W. M. (2010). Exploring Trust and the Auditor-Client Relationship: Factors Influencing the Auditor's Trust of a Client Representative. Auditing, 29(1), 279-293. doi:10.2308/aud.2010.29.1.279
Riahi-Belkaoui, A. (1995). The cultural shaping of accounting: Greenwood Publishing Group.
Schumann, J. H., Wangenheim, F. v., Stringfellow, A., Yang, Z., Praxmarer, S., Jimenez, F. R., . . . Komor, M. (2010). Drivers of trust in relational service exchange: understanding the importance of cross-cultural differences. Journal of Service Research, 13(4), 453-468.
Schwartz, K. B., & Menon, K. (1985). Auditor Switches by Failing Firms. The Accounting Review, 60(2), 248-261.
Shaub, M. K. (2004). Trust as a threat to independence. In Research on Professional Responsibility and Ethics in Accounting (Vol. 9, pp. 169-188). Emerald Group Publishing Limited.
Simnett, R., & Carey, P. J. (1998). Rotation of audit partners and relationship with audit quality: University of New South Wales, School of Accounting.
Siregar, S. V., Amarullah, F., Wibowo, A., & Anggraita, V. (2012). Audit Tenure, Auditor Rotation, and Audit Quality: The Case of Indonesia. Asian Journal of Business and Accounting, 5(1), 55-74.
Yan, J., & Hunt, J. G. J. (2005). A cross cultural perspective on perceived leadership effectiveness. International Journal of Cross Cultural Management, 5(1), 49-66.
Yusran, I. N. (2023). Determinants of the quality of financial reports. International Journal of Professional Business Review, 8(3), e01331-e01331.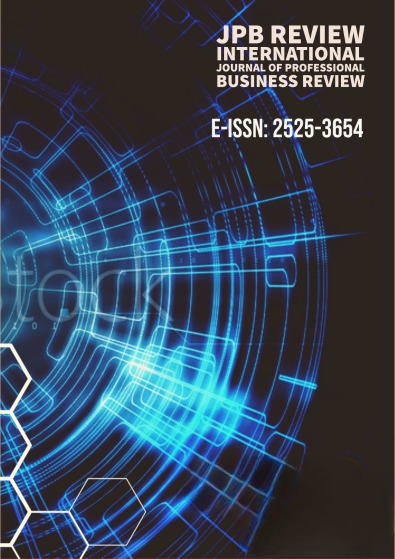 Downloads
How to Cite
Dunakhir, S., Afiah, N., Idris, H., & Idrus, M. (2023). Understanding Auditor-Auditee Relationship: Some Cultural Considerations. International Journal of Professional Business Review, 8(5), e02113. https://doi.org/10.26668/businessreview/2023.v8i5.2113
License
Copyright (c) 2023 Samirah Dunakhir, Nur Afiah, Haryani Idris, Mukhammad Idrus
This work is licensed under a Creative Commons Attribution-NoDerivatives 4.0 International License.
Authors who publish in this journal agree to the following terms: the author(s) authorize(s) the publication of the text in the journal;
The author(s) ensure(s) that the contribution is original and unpublished and that it is not in the process of evaluation by another journal;
The journal is not responsible for the views, ideas and concepts presented in articles, and these are the sole responsibility of the author(s);
The publishers reserve the right to make textual adjustments and adapt texts to meet with publication standards.
Authors retain copyright and grant the journal the right to first publication, with the work simultaneously licensed under the Creative Commons Atribuição NãoComercial 4.0 (http://creativecommons.org/licenses/by-nc/4.0/), which allows the work to be shared with recognized authorship and initial publication in this journal.
Authors are allowed to assume additional contracts separately, for non-exclusive distribution of the version of the work published in this journal (e.g. publish in institutional repository or as a book chapter), with recognition of authorship and initial publication in this journal.
Authors are allowed and are encouraged to publish and distribute their work online (e.g. in institutional repositories or on a personal web page) at any point before or during the editorial process, as this can generate positive effects, as well as increase the impact and citations of the published work (see the effect of Free Access) at http://opcit.eprints.org/oacitation-biblio.html