Valuation of Indian Ipo's Allotment and Current Price Analysis - Are Indian Ipo's Overvalued?
Keywords:
Valuation, IPO's, Market Return, Promoter Holdings
Abstract
Purpose: This study was conducted to analyze the IPOs of companies listed between 1st January 2021 to 30th April 2021 with the objective to determine whether the price at which the IPOs were introduced are fair, undervalued or overvalued and whether the performance of these IPOs have a significant relationship with factors such as the size of the IPO, age of the company and the proportion of promoters holding in the company.
Theoretical framework: Companies registered in India can usually raise funds in two ways: borrowing money using debentures or issuing shares. An initial public offering is a financial arrangement wherein the shares of a private company are offered for sale for the first time to the general public. Based on the theory described in, a semi-theoretical pricing framework is created for the fixed-price and book-building mechanisms.
Design/methodology/approach: The data were collected from NSE (National Stock Exchange) website and analyzed using the metrics such as Abnormal Returns which is calculated in order to analyze if the IPOs are underpriced, overpriced or fairly priced and Regression has been performed to check if there is any significant relationship among the Age, Size of IPO and promoter' holdings in the company after the IPO with the listing day gains or short-term gains of the IPO.
Findings: It was found that the Indian IPOs are undervalued and thus leave money on the table for the issuer of these IPOs. From the regression analysis, it is observed that there is no significant relationship between the factors such as age of the company, promoters' holding in the company and the size of the IPO with the listing days returns and the 10-day period return of the IPO.
Research, Practical & Social implications: Although most researchers believe that IPOs are usually affected by hot and cold periods or bearish-bullish trends, we are trying to determine the effectiveness of book-building method for IPOs following the pandemic in India. The study uses tools such as Abnormal Mean Return (AMR) and Regression to analyze the price of IPO, total returns on and after 10 days of listing of the IPOs, the market return during the same period, and the relationship of these returns with other variable like size, ownership and promoter' holdings in the company to determine if they have any significant impact on these returns.
Originality/value: Fair valuation of an IPO could be the reason for its success and over-valuation and under-valuation may lead to its failure and may result in huge monetary losses. The current research on IPO is significant in the sense it contributes by making it clear about the concept of IPO through Literature and about its valuations through analysis which is based on Abnormal Returns and Regression
Downloads
Download data is not yet available.
References
Amiyatosh K. Purnanandam, Bhaskaran Swaminathan (2004). Are IPOs Really Underpriced? The Review of Financial Studies, 17(3):811–848, https://doi.org/10.1093/rfs/hhg055
Chok J, Qian J (2013). Do Executives' Backgrounds Matter to IPO Investors? Evidence from the Life Science Industry, 8(5), https://doi.org/10.1371/journal.pone.0060911
Cogliati, G.M., Paleari, S. & Vismara, S (2011). IPO pricing: Growth Rates Implied in Offer Prices, Ann Finance, 7: 53–82, https://doi.org/10.1007/s10436-010-0170-6
Devarajappa, S., Tamragundi, D (2014). Post issue performance of IPOs in India: An empirical study, ERPA International Journal of Economic and Business Review, 2(8):65–70, http://epratrust.com/articles/upload/10.Devarajappa.pdf?
Dhamija S, Arora RK(2017). Impact of Quality Certification on IPO Underpricing: Evidence from India, Global Business Review, 18(2):428-444, https://dio.org/10.1177/0972150916668611
Disha M., Sweety (2016). Initial Performances of IPOs in India: Evidence from 2010-14, https://papers.ssrn.com/sol3/papers.cfm?abstract_id=2708995
Garg, Ajay and Arora, Parvinder Kumar and Singla, Ruchi(2008) IPO Underpricing in India, Icfai Journal of Applied Finance, Volume 14(3):33-42, https://ssrn.com/abstract=1097398
Hawaldar, T., Naveen Kumar, K. R., Mallikarjunappa, T(2018). Pricing and performance of IPOs: Evidence from Indian stock market, Cogent Economics & Finance, 6:1–20, https://doi.org/10.1080/23322039.2017.1420350
Jacob J, Agarwalla SK(2015). Mandatory IPO Grading: Does it Help Pricing Efficiency? Vikalpa. 40(2):132-144, https://doi.org/10.1177/0256090915592104
Karim, A. J. M., & Ahmed, N. M. (2023). Vector Autoregressive Integrating Moving Average (Varima) Model of COVID-19 Pandemic and Oil Price. International Journal of Professional Business Review, 8(1), 13.
Krishnan, P., & Periasamy, M. N. (2022). Testing of Semi–Strong Form of Efficiency: an Empirical Study on Stock Market Reaction Around Dividend Announcement. International Journal of Professional Business Review, 7(2), e0483-e0483.
Kumar, S.(2008). Is Book building an Efficient IPO Pricing Mechanism? - The Indian Evidence, 21st Australasian Finance and Banking Conference Paper, https://ssrn.com/abstract=1252982 or http://dx.doi.org/10.2139/ssrn.1252982
Tim Loughran & Jay R. Ritter (2002). "Why Don't Issuers Get Upset About Leaving Money on the Table in IPOs?," Review of Financial Studies, Society for Financial Studies, 15(2):413-444, http://dx.doi.org/10.2139/ssrn.331780
Manu ,K.S., Saini, Chhavi(2020). Valuation Analysis of Initial Public Offer (IPO): The Case of India, https://doi.org/10.1177/0971890720914100
Narang, S(2017). A model of relationship between IPOs activity and GDP growth rate, International Journal of Commerce and Management Research, 3(6):65–68, http://aeconf.com/Articles/May2018/aef190114.pdf
S, Seshadev., R. Prabina(2010). After Market Pricing Performance of Initial Public Offerings (IPOs): Indian IPO Market 2002–2006, https://doi.org/10.1177/0256090920100403
Sabarinathan, G (2010). Attributes of companies making IPOs in India-some Observations, IIM Bangalore Research Paper No. 323, http://dx.doi.org/10.2139/ssrn.2122354
Sehgal, Sanjay., Sinha, Bushan Kumar (2013), Valuation of IPOs in India-An Empirical study, http://dx.doi.org/10.5296/ber.v3i2.4585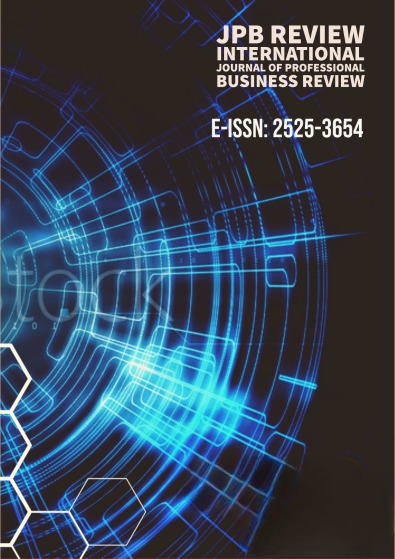 Downloads
How to Cite
Nusrathunnisa, Khatoon, G., Bala , H., Benbelgacem, S., & Karaye, A. . B. (2023). Valuation of Indian Ipo's Allotment and Current Price Analysis - Are Indian Ipo's Overvalued?. International Journal of Professional Business Review, 8(5), e0700. https://doi.org/10.26668/businessreview/2023.v8i5.700
License
Copyright (c) 2022 Ghousia Khatoon, Nusrathunnisa, Hussaini Bala , Samira Benbelgacem, Abubakar Balarabe Karaye
This work is licensed under a Creative Commons Attribution-NoDerivatives 4.0 International License.
Authors who publish in this journal agree to the following terms: the author(s) authorize(s) the publication of the text in the journal;
The author(s) ensure(s) that the contribution is original and unpublished and that it is not in the process of evaluation by another journal;
The journal is not responsible for the views, ideas and concepts presented in articles, and these are the sole responsibility of the author(s);
The publishers reserve the right to make textual adjustments and adapt texts to meet with publication standards.
Authors retain copyright and grant the journal the right to first publication, with the work simultaneously licensed under the Creative Commons Atribuição NãoComercial 4.0 (http://creativecommons.org/licenses/by-nc/4.0/), which allows the work to be shared with recognized authorship and initial publication in this journal.
Authors are allowed to assume additional contracts separately, for non-exclusive distribution of the version of the work published in this journal (e.g. publish in institutional repository or as a book chapter), with recognition of authorship and initial publication in this journal.
Authors are allowed and are encouraged to publish and distribute their work online (e.g. in institutional repositories or on a personal web page) at any point before or during the editorial process, as this can generate positive effects, as well as increase the impact and citations of the published work (see the effect of Free Access) at http://opcit.eprints.org/oacitation-biblio.html